You can now use Patch Automations to create targeted Customer Journeys for each bucket, for example:
Send a welcome text to all

NEW

customers

Send an incentive to any customer who moves to

AT-RISK

Offer free loyalty cash to any customer who becomes

LOST

Send a thank you card to any customer who becomes a

CHAMPION
The Contact RFM trigger block allows you to create perfectly timed Customer Journeys for every segment and sub-segment of your customer database.
Contact RFM Trigger Block
*This trigger block requires you to reach out to a Patch Specialist in order to configure. Please contact us by emailing success@patchretention.com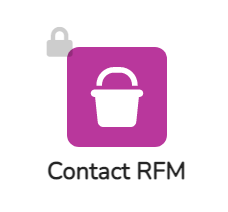 How it is triggered:
The Contact RFM trigger block is an event-triggered block.
The Patch system tracks each Contact's behavior and places them into RFM Buckets based on their Recency, Frequency, and Monetary (RFM) scores. RFM values help you identify your database segments and label them according to their shopping trends.
Recency tells you how long it has been since a Contact has made a purchase. Frequency tells you how many purchases they have made within a timeframe. Monetary is based on the total dollar spent for each Contact.
You can target your Customer Journeys based on a Contact going to and from specific buckets.
Note: If there are filter options on the trigger block the customer will need to match those filter settings to trigger the customer journey map.
When to use:
Contact 'Jane Smith' has made their 5th purchase moving her from the 'Promising' RFM bucket to 'Loyal'. You set up an Automated Customer Journey that triggers anytime a contact goes from any subsequent bucket into the 'Loyal' bucket. The journey is built to create a one-time discount assigned to Jane Smith to use on her next purchase. You then send her a message via Email and SMS informing her of this reward and thanking her for her loyalty to your company.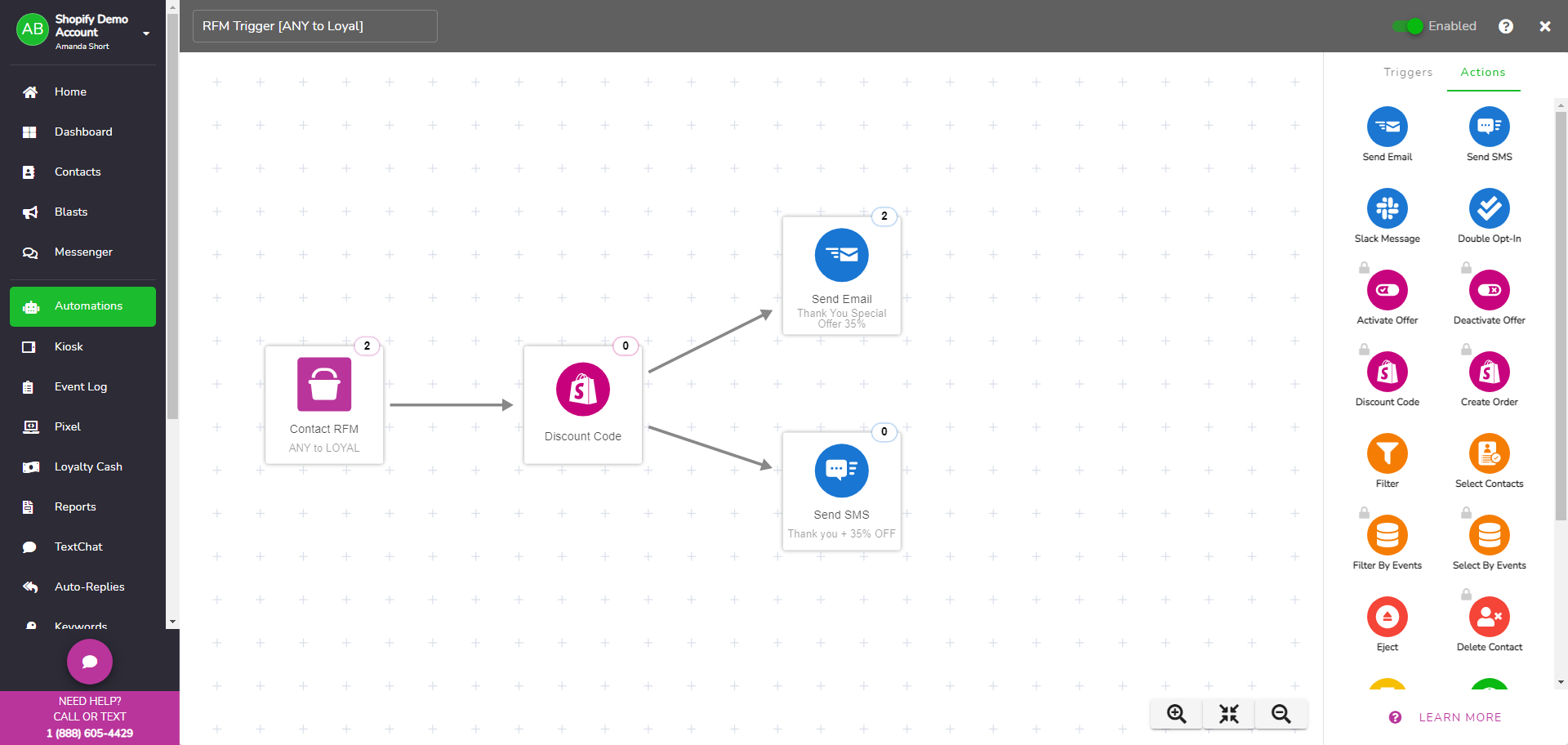 This automation would start with the Contact RFM trigger block with the Filter rules set for 'RFM Segment Previous = Promising' and 'RFM Segment = Loyal'. Then place a Discount Code block onto the canvas and complete the settings of the discount accordingly. Next include a 'Send Email' and a 'Send SMS' block and use the Discount Code SmartText within the copy. Connect these blocks and Enable the automation!
Filter Rules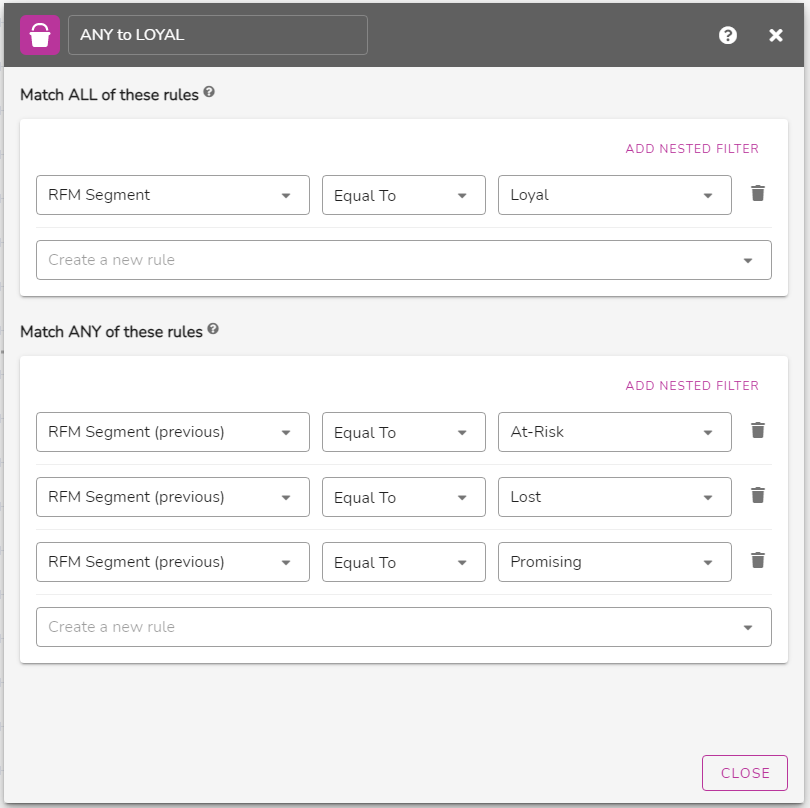 It's that easy! As always if you need any assistance setting this up or would like one of our Retention Specialists to review your automation please reach out to us via the TextChat widget in the bottom left corner of your account or email our Success Team at success@patchretention.com.