This is where you will set up your Short Name, and Notification Options, and manage existing SMS Gateways.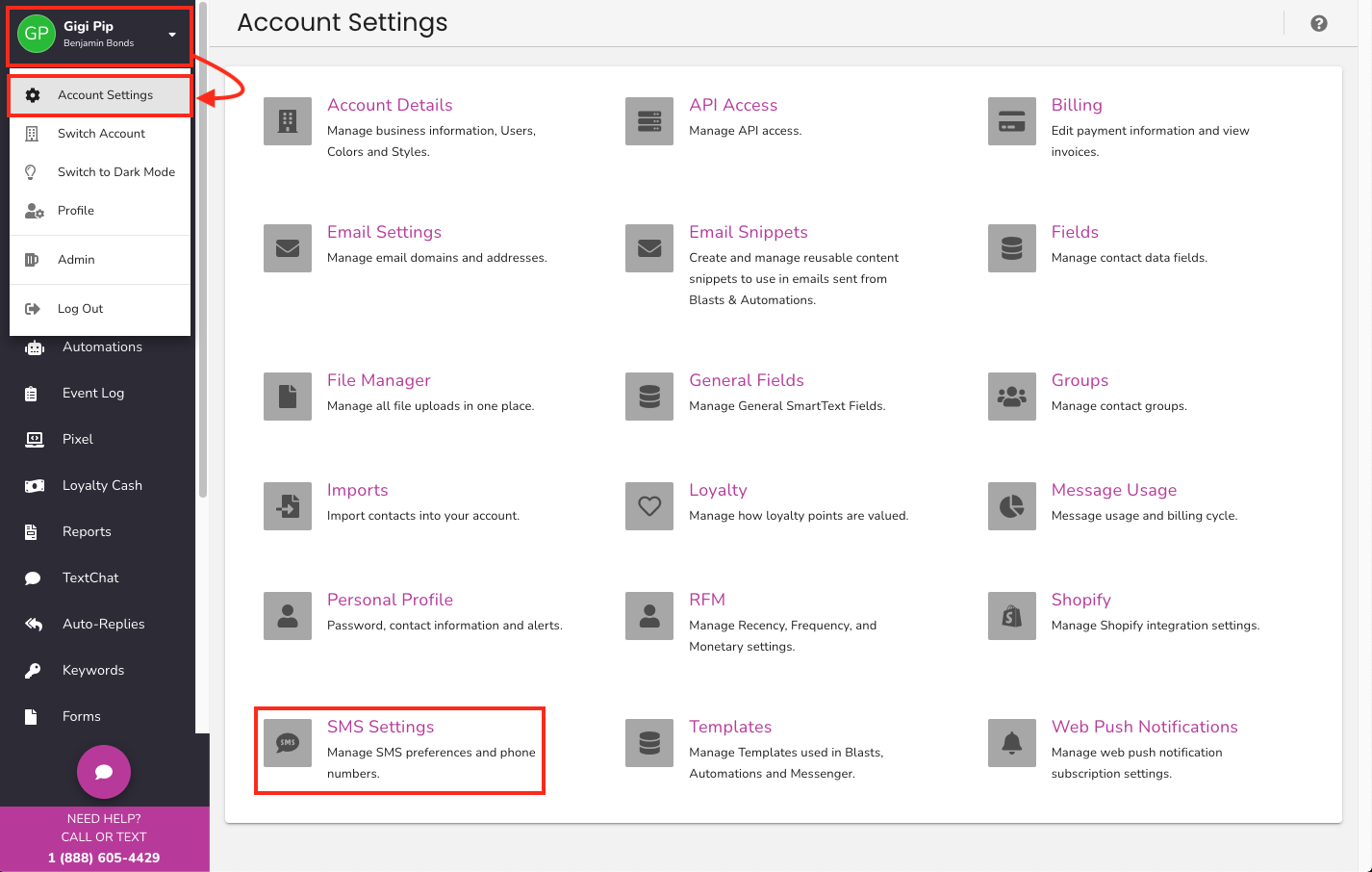 Short Name
This is text added to all SMS messages that are sent via Automations, Blasts, and Auto-Replies. This tells the end customer who is messaging them and reduces spam reports.
The Short Name is a shortened version of your Company/Business name. This allows you to reduce the number of characters being used instead of the full company name. The Short Name is placed in front of your SMS/MMS message and is only removed if the business name is included in the message elsewhere. The business name is required when sending automated messages. The only instance the business name is not required is when sending messages via two-way communication through Messenger.
Notification Options:
Send a message inviting all newly created Contacts to reply "Y" or "YES" to opt into SMS messaging.


Send a message informing all newly subscribed Contacts that they may reply "STOP" to opt-out.
Patch recommends both of these options be included in order for your business to be in compliance with SMS messaging laws and regulations.

** Written consent is required in order to send messages to a Contact via SMS whereas sending messages to Contacts via Email only requires implied consent **
For more details and information regarding messaging compliance please reach out to our team at success@patchretention.com
SMS Gateways
An SMS gateway or MMS gateway allows a computer (also known as a Server) to send or receive text messages in the form of Short Message Service (SMS) or Multimedia Messaging Service (MMS) transmissions between local and/or international telecommunications networks. In most cases, SMS and MMS are eventually routed to a mobile phone through a wireless carrier. SMS gateways are commonly used as a method for person-to-person to device-to-person (also known as application-to-person) communications. Many SMS gateways support content and media conversions from email, push, voice, and other formats.
There are several applications for SMS gateways, including:
Bulk/mass SMS messaging communications are commonly used for customer care to marketing campaigns (Patch Blasts & Automations)

Two-way SMS messaging, designed for the exchange of messages from clients to a customer portal (Patch Messenger)

To enable the development of an SMS widget for newsletters and updates (Patch TextChat)

API allows systems to integrate with 3rd party systems including common CRM, e-commerce, ERP, and internal platforms (Shopify & other POS systems with Patch)

For multi-factor authentication or two-factor authentication using SMS as a channel for delivering one-time-passwords (OTPs) (not used with Patch)
Every account with Patch comes with a TFN (Toll-Free Number) gateway to allow for SMS/MMS messaging. If you need assistance with your gateway please contact our team at success@patchretention.com



Account Settings Overview