By default, every account comes preloaded with Email Snippets for the 'Header' and 'Footer' that is auto-loaded into every email for you.
You can edit the default Header and Footers to match your branding as needed. You can also create additional Snippets for other needs such as including your Customers' existing Loyalty Cash/Points balance to promote your Loyalty Program, a how-to join your Loyalty Program, Product sections like Shop by 'Category', 'Collection', 'Product Features' etc. Many accounts also use this to promote their New Arrivals, Events, Business Operations info like Hours, Directions, Return/Refund policies, and much more.
These are reusable sections of an email that have the ability to be updated for global account changes. Snippets are able to be updated/changed within the original Snippet and it propagate automatically anywhere the Snippet is being used. This will save you time later by not having to update every single email or template when you make changes within your business.
Email Snippets are great for sections of Emails that you tend to include often to save you from building out those sections on a per-email basis every single time, by creating it as a Snippet first you can then easily click and drag the entire section into your email.
Note: When using the Email Editor be sure to save your work regularly using the Floppy Disk icon in the top right corner. Building Emails can often take time and if you build the entire message without saving as you go there is a risk that servers can timeout and you may lose your work. Saving often throughout this process will help prevent this from happening and in the event it does the amount of work lost will be limited.
For instance, you build out a section that is dedicated to your Loyalty & Rewards Program.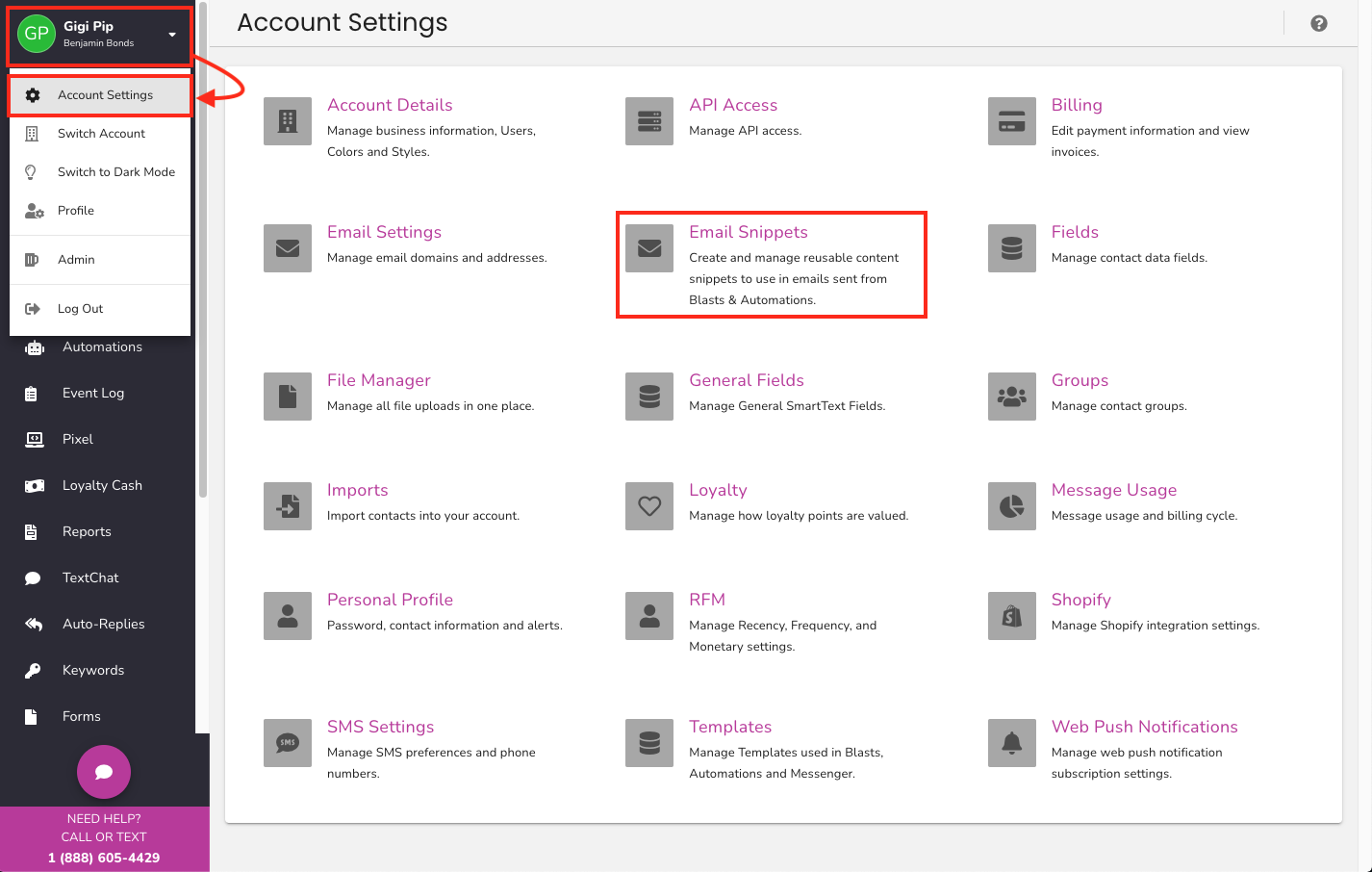 This not only will save your team time and your business money but also allow for changes later that can retroactively update all emails that include that section without having to manually update them one by one.
While in the email editor, you can also take the existing snippet(s) and make a one-time local change without affecting any emails that are using this component.
Email Snippets will have two options for editing:
Edit the original Snippet that will retroactively update anywhere that snippet is placed in the account, or, make a one-time local copy and adjust the snippet for just that one email.
Email Snippets will also inherit your brand settings. So if you ever update your company logo, or brand colors simply update your Brand Settings and adjust your Snippets and all of your already built emails will auto-update as well as any new emails created will propagate automatically with your settings.
Note: If you open a Snippet or Template and the settings aren't updated accordingly this means that those specific elements or sections of the email were manually updated within the Email Editor.
Your account comes pre-loaded with a Default Header and Default Footer that use your Brand Settings and can be edited further and customized for your brand.
To create a new Snippet, click on the (+) sign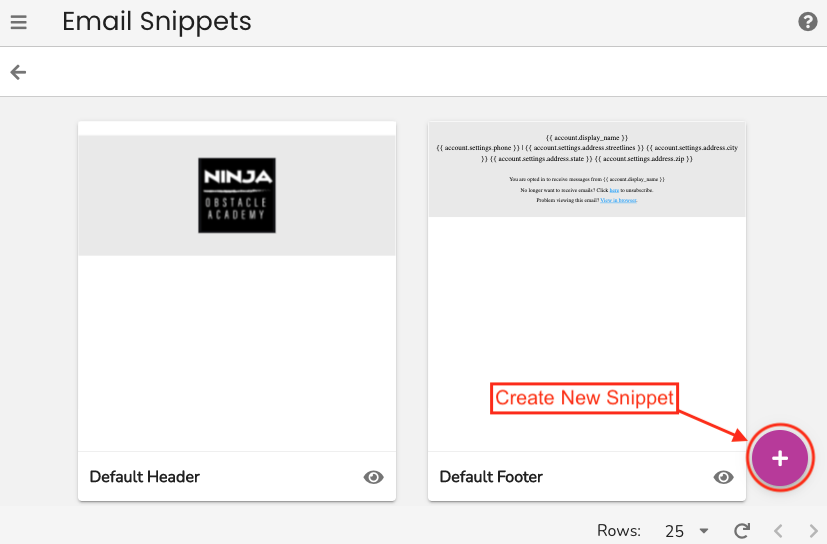 You can name your new snippet at the top.
Click to drag and drop a layout.
You can also drag over an existing Snippet.
This article is meant to cover the email snippet section, to learn more about how to use the editor, click here.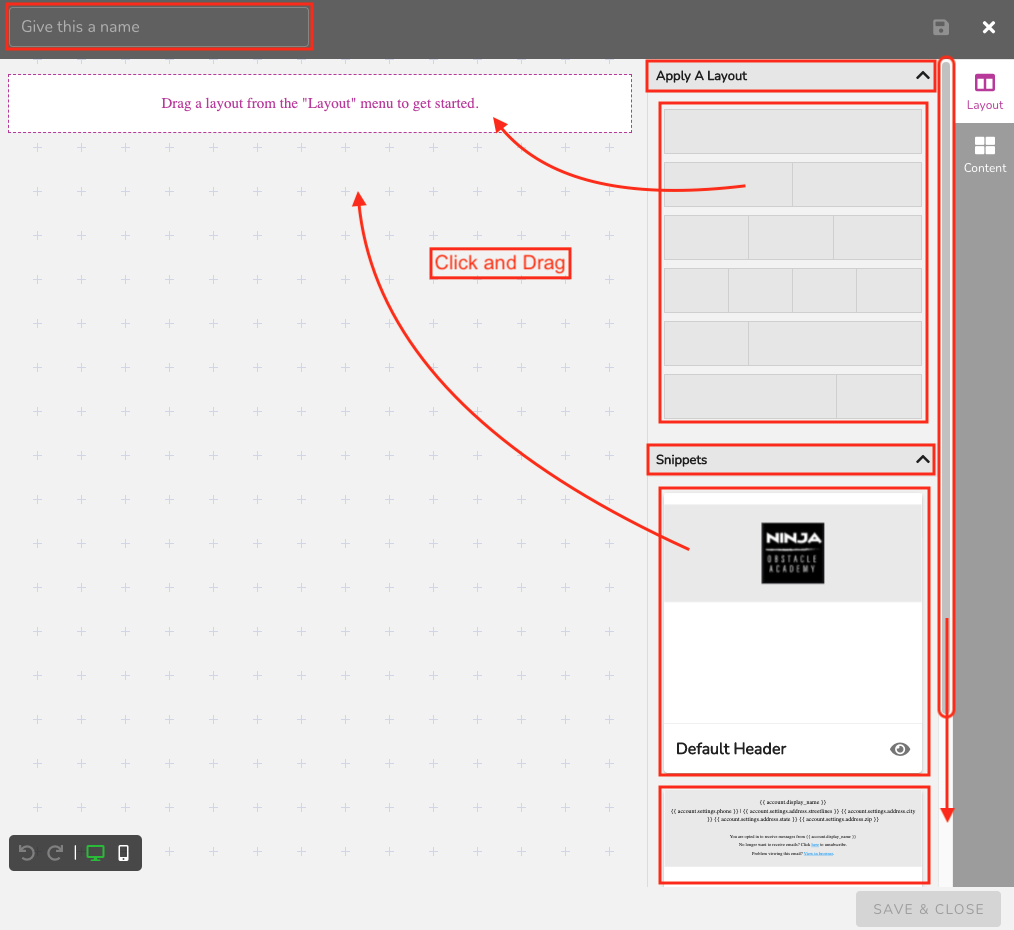 You can select either one to view/edit.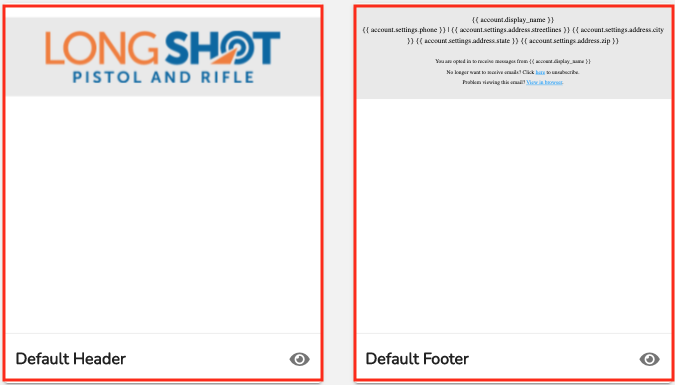 The Default Header will include the image for the Business Logo for the Brand Settings in the Account Details of the Account Settings.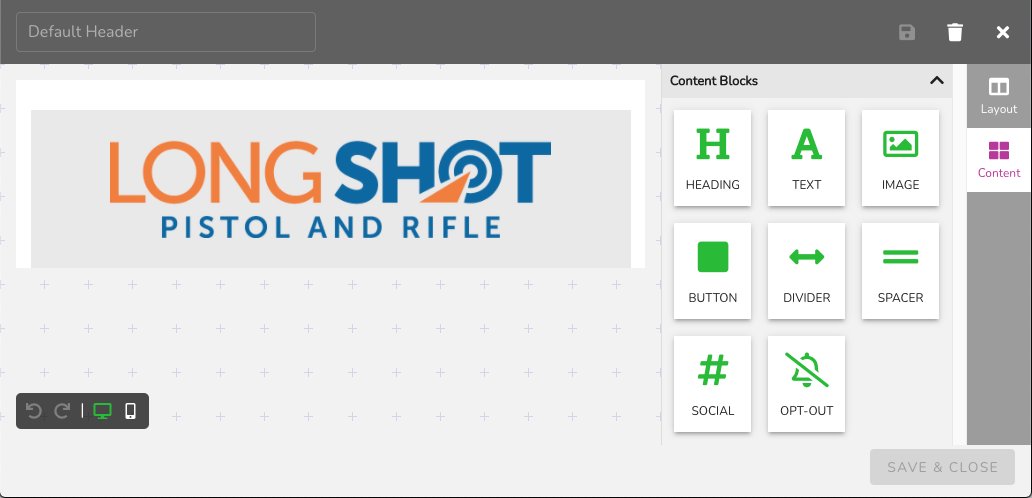 If you open up the Default Footer, you can see that some of the account information appears here in the Footer Snippet.
Account details such as the 'Display Name', 'Phone Number', and 'Address' are dynamically propagating into your content from the Account Details section which can be adjusted in the Account Settings - Account Details section.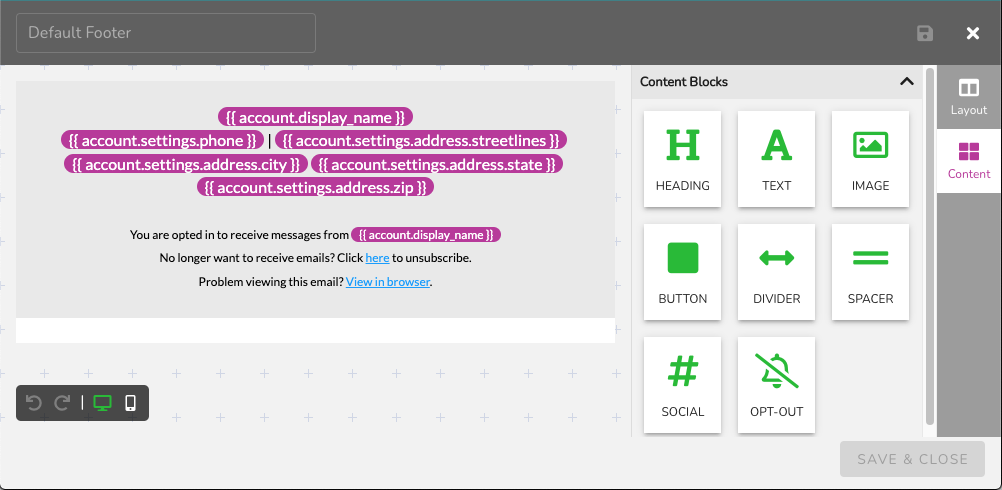 Account Settings Overview