Select a contact to open the Customer Profile Window.
The Loyalty Tab appears on the row at the top within the Activity Window.


The available tabs to go through are:

- Activity

- Loyalty

- Discount Codes

- Automations
In the Customer Profile Card - Activity Tab, the Activity tab has been detailed.

Now let's take a look at the 'Loyalty' tab.
This tab is specific to Shopify and has two sections.
The top half is the 'Loyalty Program' and the bottom half is the 'Loyalty Ledger'.
The Loyalty Program will display how many Loyalty Points this customer has accumulated.
If needed, you could adjust the Loyalty Points with the (-) and (+) symbols.
The bottom half labeled 'Loyalty Ledger' shows each amount and date of which Loyalty Cash was earned.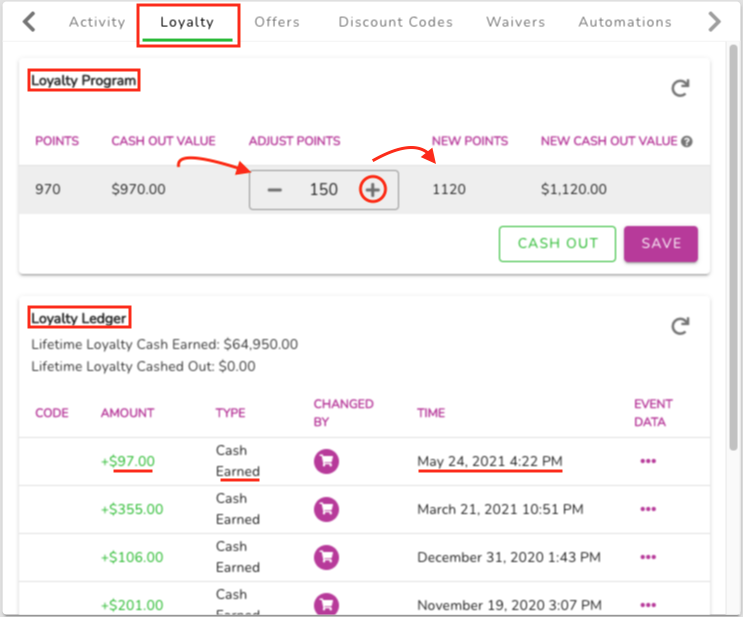 Now let's take a look at the 'Loyalty' tab.
There are two sections on this tab: Loyalty Program & Loyalty Ledger
In the first section: Loyalty Program
The 'Loyalty Program'section displays the Contact's available points and the value in which they can cash out their points.
You also have the ability to adjust the number of points using the plus (+) and minus (-) buttons. When adjusting new points the columns will update to show you the value in both points and cash.
Once you are finished adjusting the points you click save and confirm.
This change will reflect in the Loyalty Ledger below.
The Loyalty Ledger will show all of the events associated with earning and cashing out Loyalty Points/Cash.
Each event will log the Code (if applicable), Amount, Types, Changed By, Time, and add'l Event Data.