The Admin section is where you can add additional admins or adjust an admins access to be limited access for any employee.
To access the admin section:
- Click the business name in the top left corner of the CityGro portal.

- Select: 'Account Settings' in the drop-down menu

- Then click 'Account Details'


- Scroll to the bottom section labeled 'Admins'

Adjusting existing admins to be a limited access admin
To create a Limited Access account you can choose Limited Access and then specifically set which modules are available by checking the box by your selections.
- To adjust an existing admin simply click on the edit pencil to access that admin

- Once inside the admin, adjust the dropdown from 'Full Access' to 'Limited Access'

- Click on the next box below labeled 'Limit access to only these modules'

- Select the 'Contacts' section and the 'Messenger' section (if you use 2 way messaging) and 'Event Log'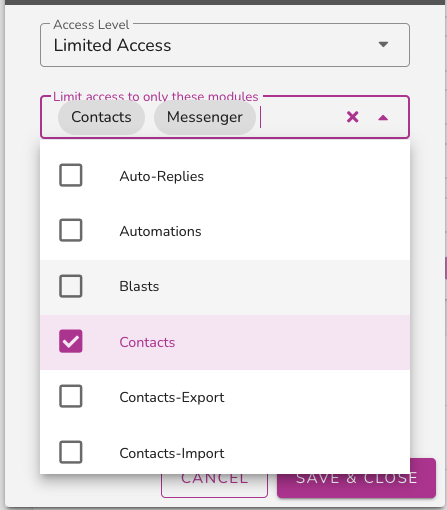 Adding a new admin
To Add an admin, click on the (+) Sign in the lower right corner of this window.
This window asks for basic information about the new admin account, with the last option asking for the Access Level.
For the Access Level, you can choose to set it to Full, Limited, or Read-Only Access.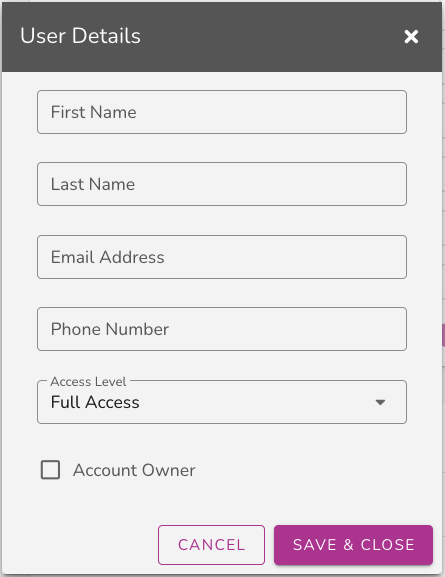 Account Settings Overview