How to Send a Blast
This tutorial will take you through the 5 steps to sending a blast! This is a great reference page for when sending Blasts. (Click Here for the video tutorial)
Getting There:
Go to the Blasts Module of the CityGro Portal.
Click the orange + New Blast button.

Give the message a simple name
Step 1: Will your message include a SmartOffer?
No: It doesn't matter if a coupon shows up (Go to Step 2: Message Content)


YES:

If you want a coupon to show up on your kiosk, do the following:
Make your selection:

Select the SmartOffer from the list that matches your special. (Click Here for a tutorial on how to make one)


Add your expiration duration:

You will want to put the # of days you'd like the offer to last after the message is sent.

For example, if your message is to be sent on Friday with the promotion lasting until Saturday (the next day). You will want to put 1 Day and keep the box checked for "Extend expiration until 11:59 PM on the day it expires" (That just makes it so customers can redeem the offer all day until the store closes)


Step 2: Message Content
Select SMS





Either select a template on the left and click "Use Selected Template" or you can click "Use Blank Template" at the bottom right to start from scratch.




Click Here for some tips and tricks on putting together a Text (SMS)



Make sure you "Send Test Message" to your cell phone on the bottom right to make sure it looks good



Step 3: Schedule (Decide when you want to send this Blast)
Right now: The message will be placed in the queue as soon as you click Send

Scheduled time: Allows you to specify a certain date and time to send the message

Try to avoid sending messages outside of 8:00 AM - 9:00 PM. You will see an alert message if you try to



Step 4: Select Recipients
All opted-in contacts:

Choose this option for your text to be sent to all "opted-in" contacts. (Not all contacts will be opted-in)





Add rules to limit recipients:

This option will allow you to narrow the recipients of this message, sending only to contacts that match the rules you define. Click Here for a tutorial on how to use Filters. Common rules include the following:



Last Check-In Time

# of Check-ins

# of Loyalty Points

Created Date



Step 5: Confirmation (This is the last step before a message can be scheduled for delivery)
Preview- Scan through to make sure you approve of the content.
Recipients- Double check that it is scheduled to go to the right people.
Schedule- Do you have it set up to go out at the correct time?
Send/Schedule- Once everything has been approved, click the orange Send/Schedule button on the bottom right-hand corner.
Follow any instructions provided to confirm that your message is ready to send.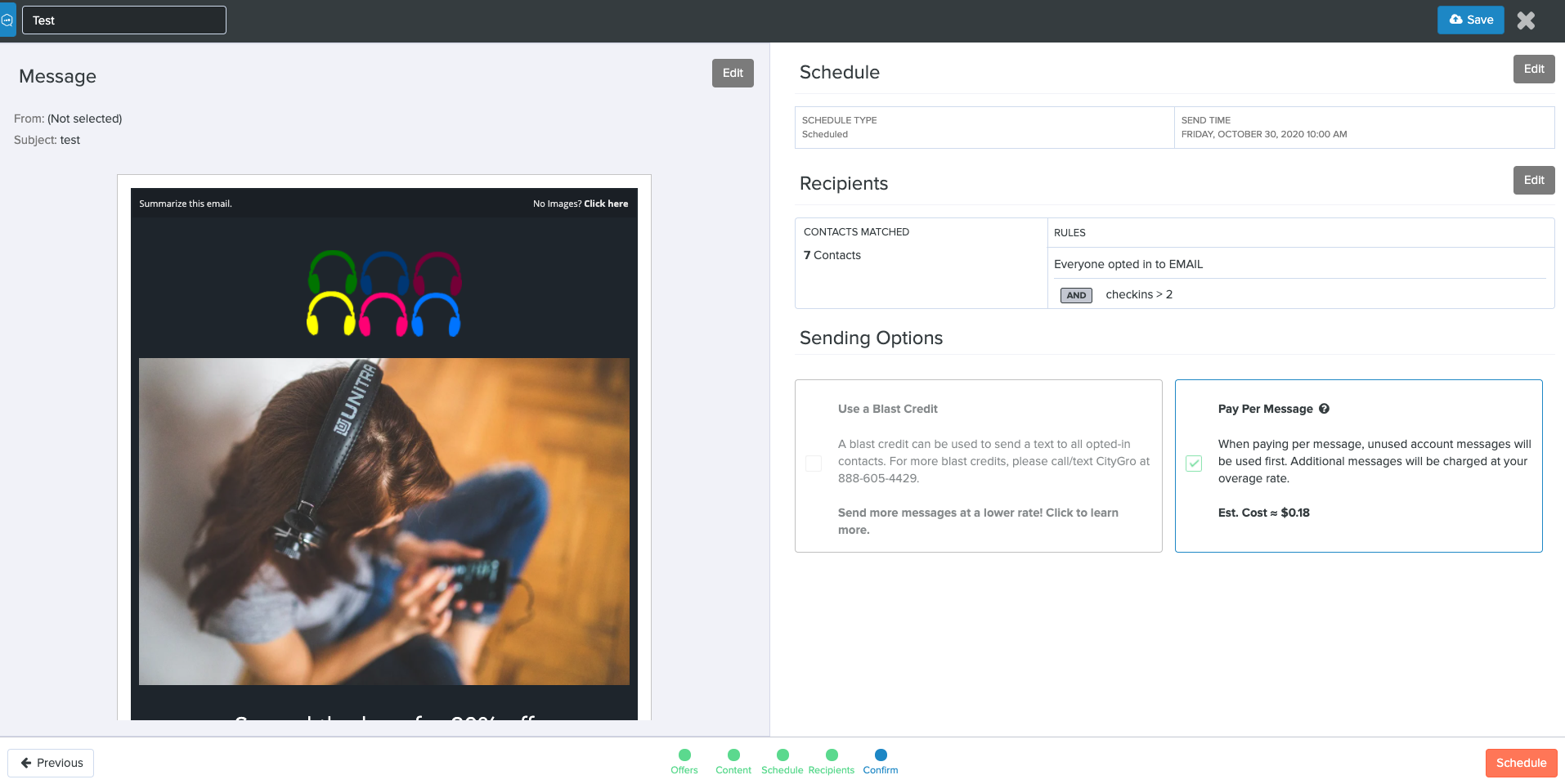 Congrats, you did it!
Make sure to give a thumbs up or down if this tutorial helped!