Sync Settings
Sync Settings in the Kiosk editor offer an essential layer of control and customization when it comes to managing data interactions with the server.
Choose When to Sync: Decide if you want the page to sync with the server when it's completed. Check the box if yes.
Select Sync Event: Pick from options like Start Checkin, Update Contact, or Finish Checkin to specify when the synchronization should happen, aligning with your workflow.
Choose Identifier: Select how data will be uniquely identified during sync. You can use the Contact ID, Phone, or Email.
Set Contact Requirement: Patch Rep Feature Only. If you are interested in using this feature please reach out to Customer Success.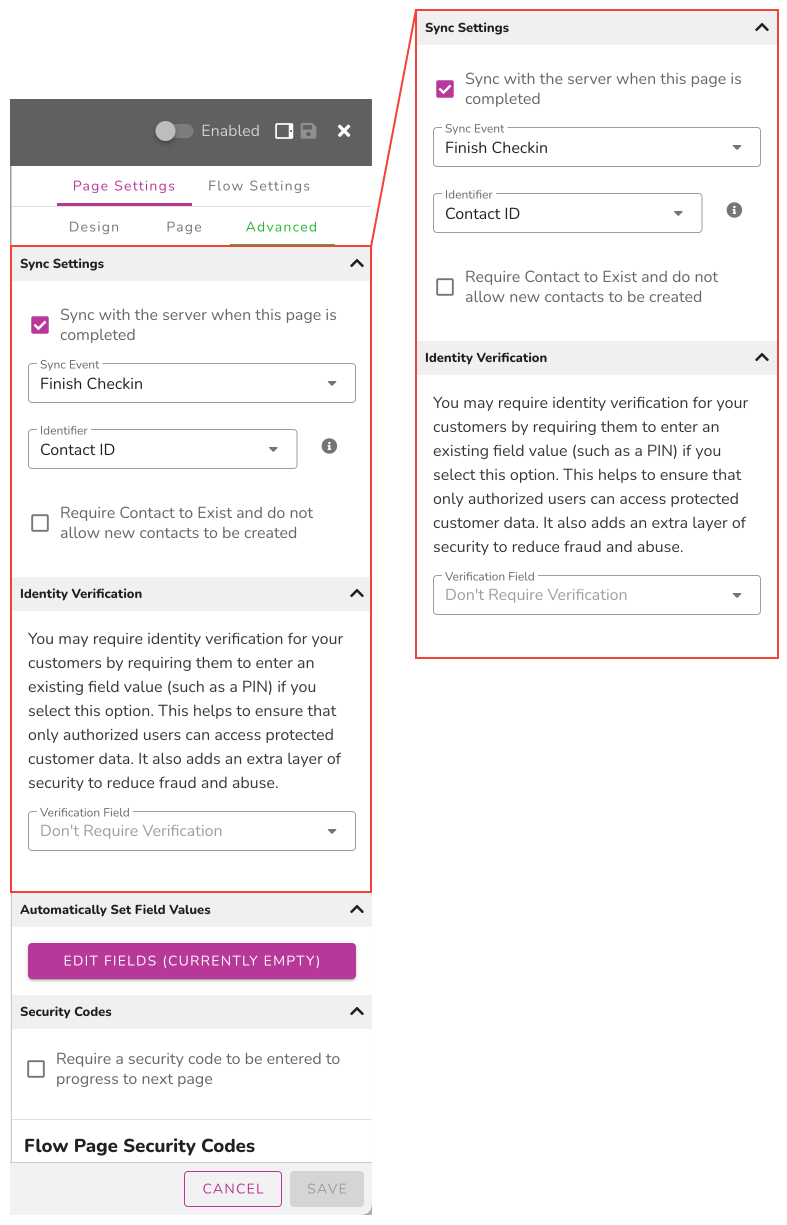 Identity Verification
The purpose of Identity Verification Settings is to enhance security and protect sensitive customer data by requiring authorized users to validate their identity through a specified field value, such as a PIN. This feature adds an extra layer of protection to prevent unauthorized access and reduce the potential for fraud or misuse.
Choose Identity Verification: Decide whether you want to verify the customer's identity.
Check the box if you do.
Select Verification Field: Pick an existing field value, like a PIN, that customers need to enter. This step ensures that only authorized users can access sensitive customer data.
Enhance Security: By implementing identity verification, you add an extra layer of security, reducing the risk of fraud and misuse of your services.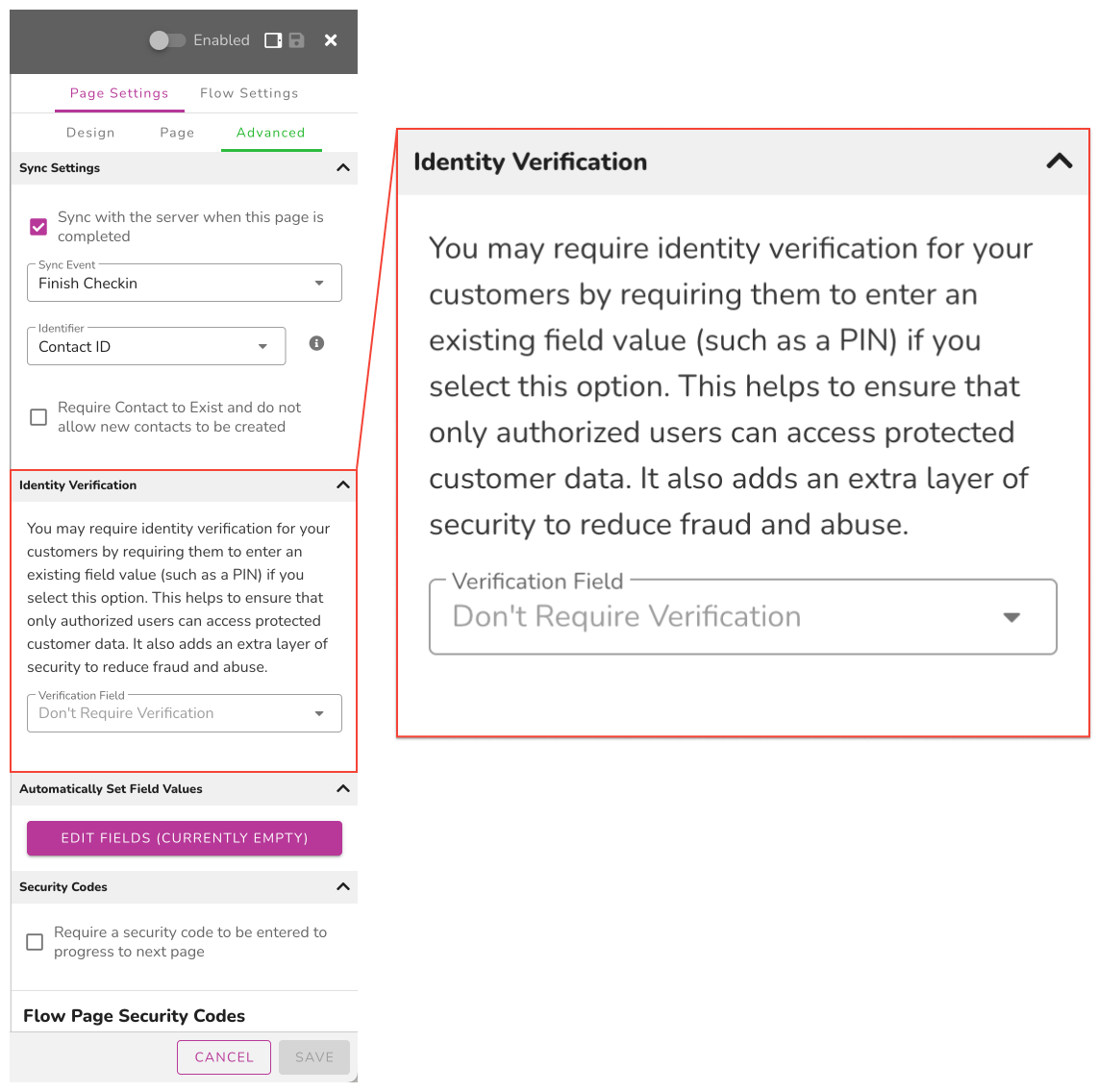 Automatically Set Field Values
This step simplifies data entry by filling in certain fields with predefined values, making the process quicker and more consistent.
Edit Fields: Click this button to add desired fields. When you're finished, click the Save button in the bottom right of the popup window.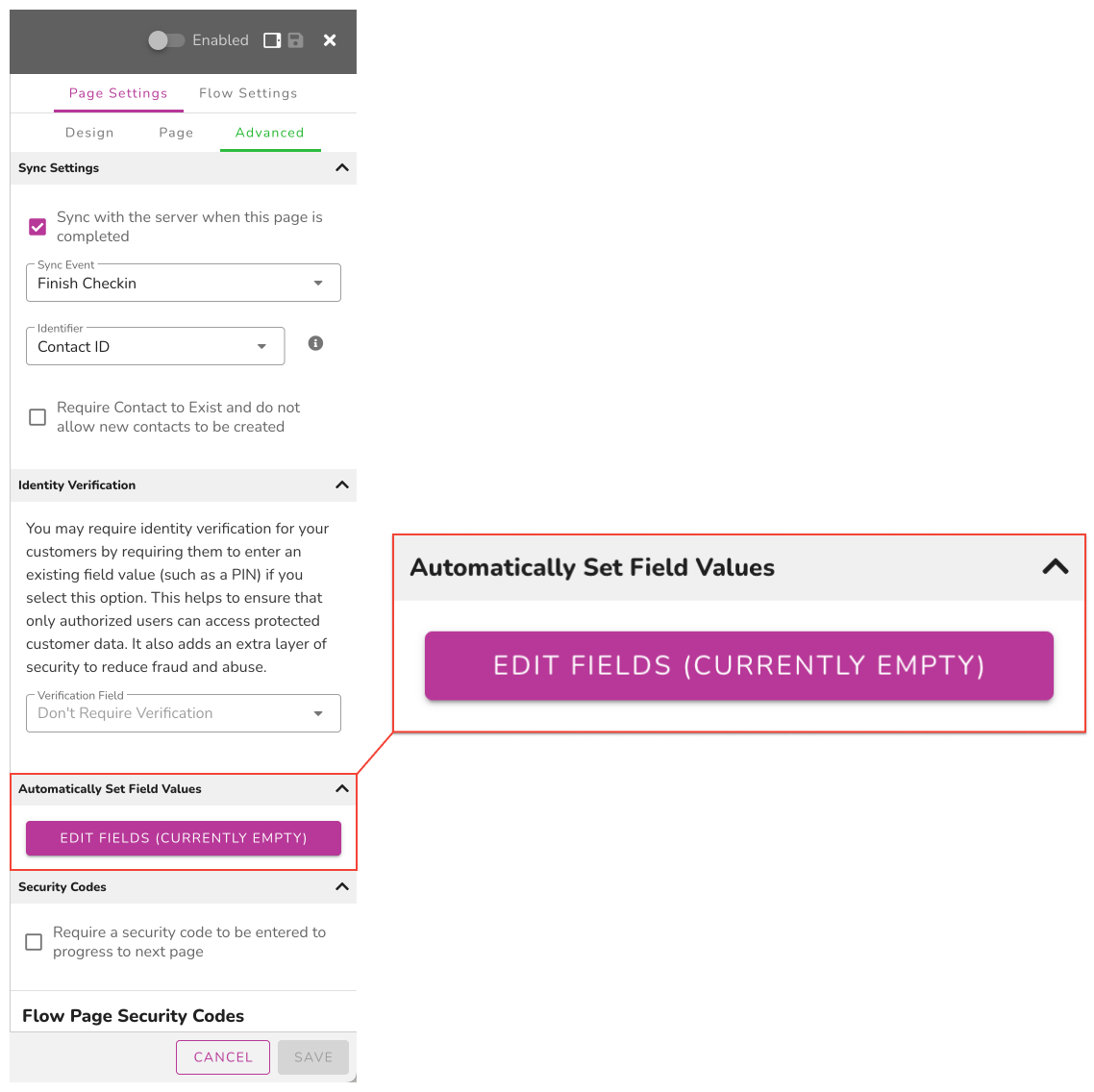 Security Codes
The purpose of the Security Codes section is to bolster the security of your flow pages by enabling the requirement for users to input a designated security code before advancing to the next page. This feature enhances access control and safeguards sensitive content, ensuring that only authorized users can navigate through the pages within your application.
Enable Security Code Requirement: Start by deciding if you want to require a security code for users to progress to the next page. Check the box to activate this feature.
Add a New Security Code: Once enabled, you can add a new security code. Click on the "Add New Code" button, then enter the code you'd like to use for verification.