Background Images
To add a background image to your Kiosk page, follow these simple steps. First, open your Kiosk editor and navigate to the page where you want to set the background image. Once you're on the desired page, look for the "Background Images" dropdown under Page Settings: Design. Click "Add Image" then "Select Image." Select an existing file or upload a new image. If you are adding more than one image, you can rearrange them as needed for the desired effect. You can also edit or delete images at any time.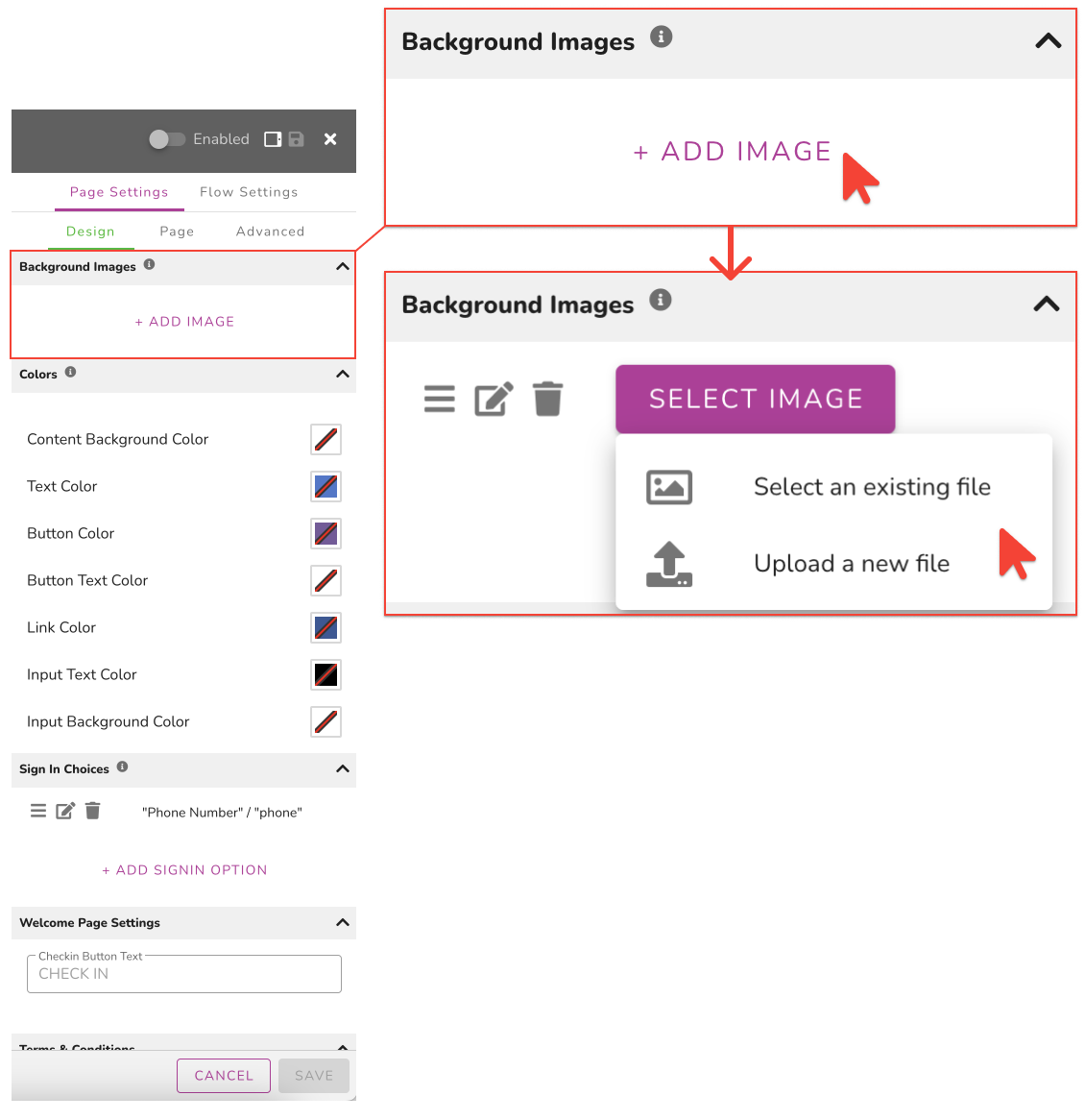 Colors (Welcome)
When editing the Welcome page, you can find options to set various color elements. You can either use the color picker to select your preferred hue visually or enter a specific hex code if you have precise brand colors in mind.
If you've previously set up your brand colors in Brand Settings (found within the Account Settings page) you're in luck! These brand colors will be readily available for you to apply to your Kiosk page, ensuring consistency with your organization's identity.
Now, let's dive into the specific color settings you can adjust:
Content Background Color: This sets the background color of the main content area, providing a backdrop for your page's content.
Text Color: Customize the color of the text displayed on your page to ensure readability and match your design aesthetics.
Button Color: Tailor the color of buttons on your Kiosk page, making them visually appealing and consistent with your brand.
Button Text Color: Specify the color of the text displayed on buttons, ensuring clarity and contrast for easy navigation.
Link Color: Set the color of hyperlinks to guide user interactions and maintain a cohesive design.
Input Text Color: Choose the color of text entered by users in input fields, enhancing visibility and usability.
Input Background Color: Define the background color of input fields, giving them a distinct appearance and reinforcing your design scheme.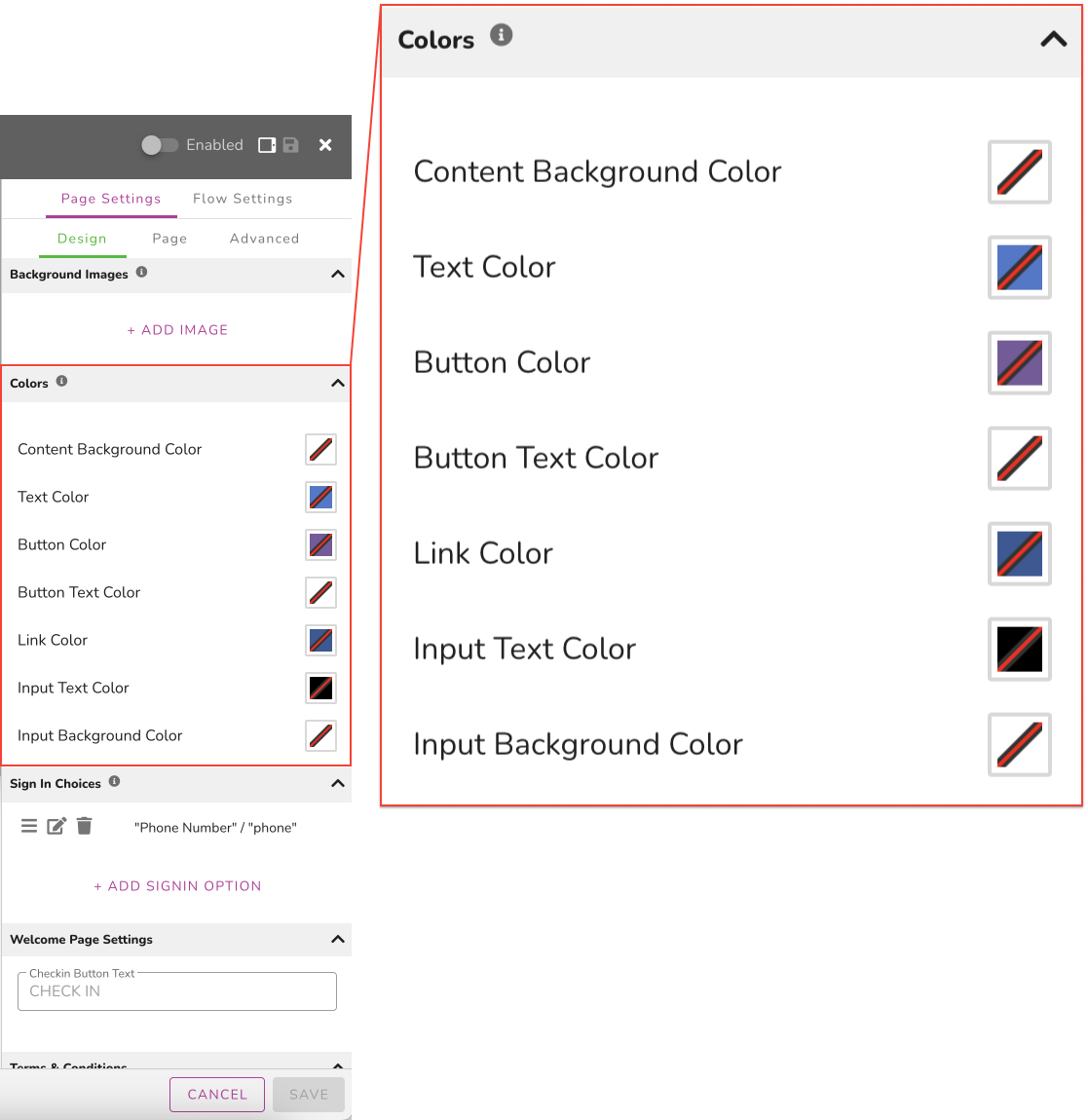 Sign In Choices (Welcome)
By default, the Welcome Page uses the Phone Number option with a Patch Number Pad. Alternatively, you can choose to allow sign-in using the Contact's Email Address or PIN Number. Select the keyboard option that best suits your kiosk: Device Email Keyboard, Device Number Pad, or Patch Number Pad.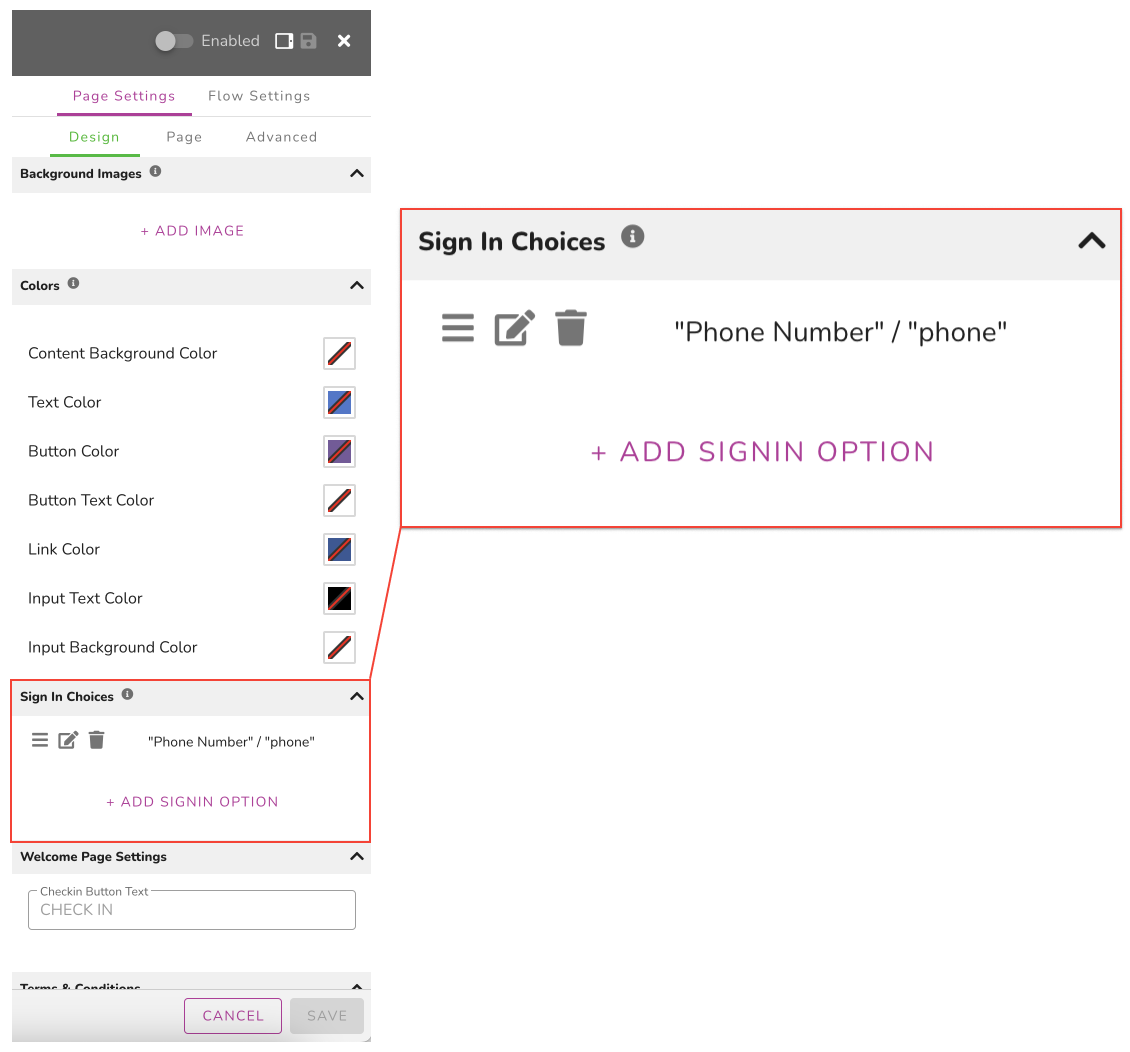 Welcome Page Settings (Welcome)
We have the ability to customize your Check-In Button based on your specific needs.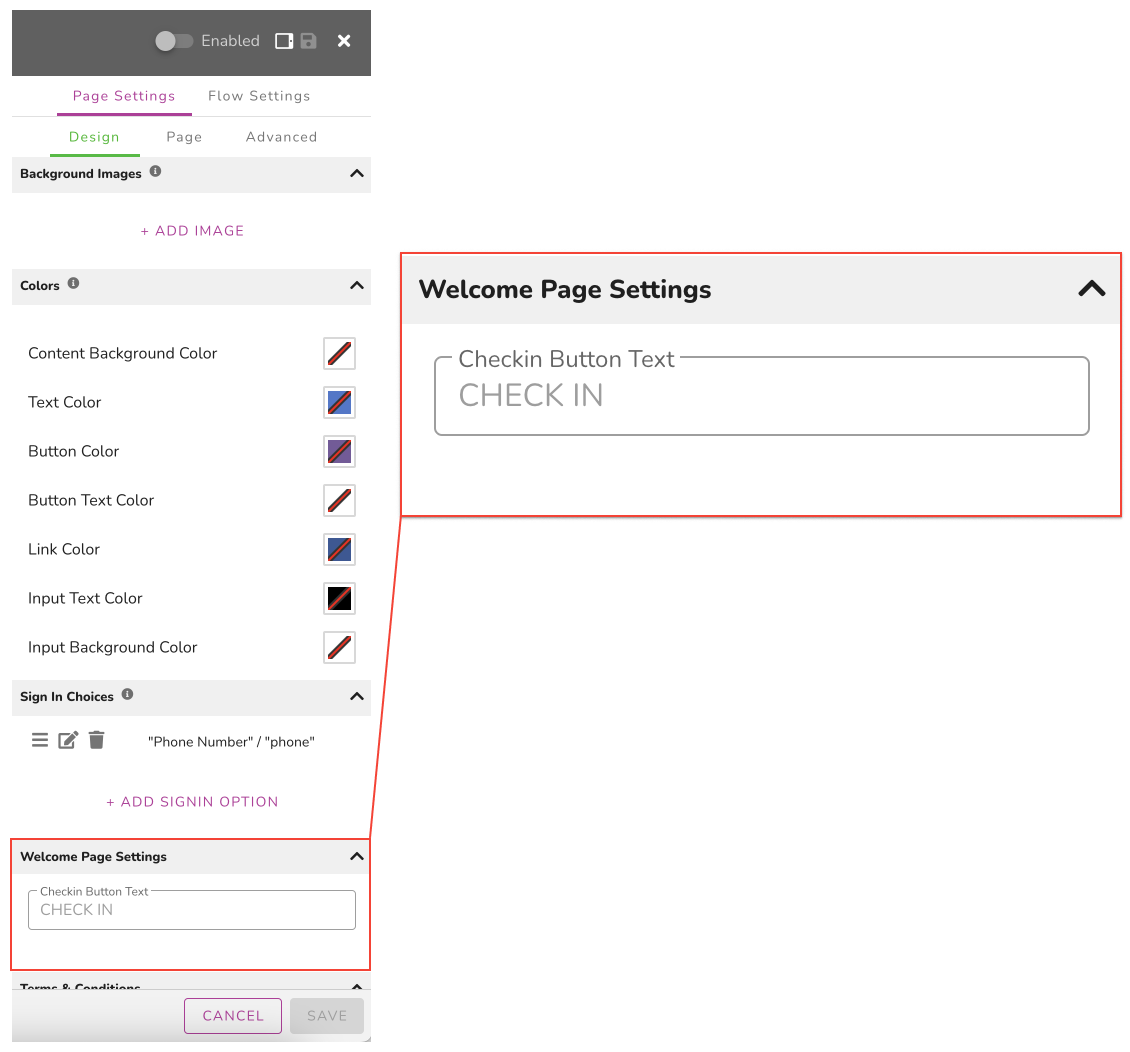 Terms & Conditions (Welcome)
You can choose to hide or display the Terms & Conditions. Terms & Conditions and link text are available by default. You can update verbiage and provide a URL for the terms if needed by using the Terms Link Text and Terms URL inputs, respectively.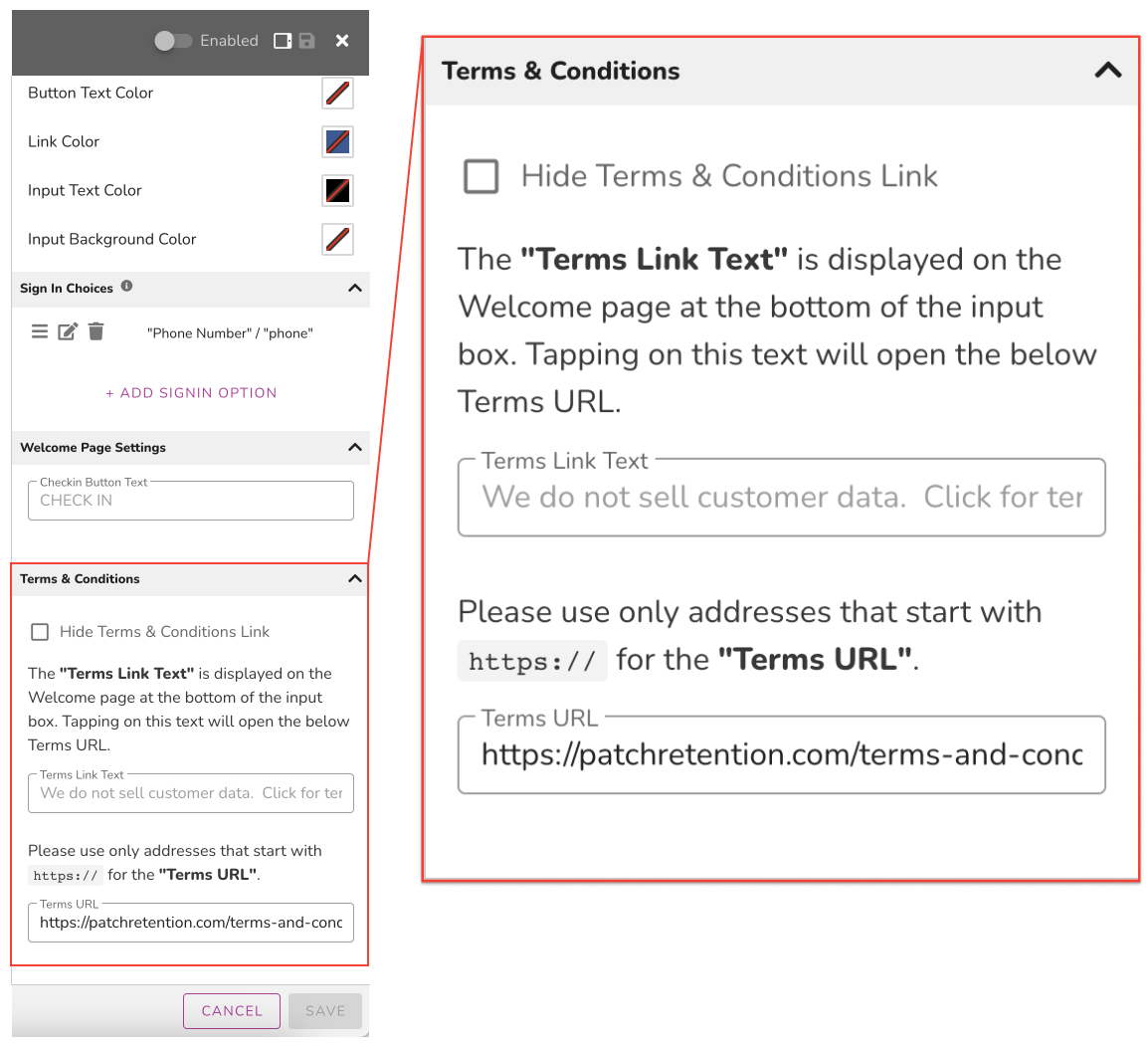 Header
The header on your page can provide the user with context or instructions about what the page is about.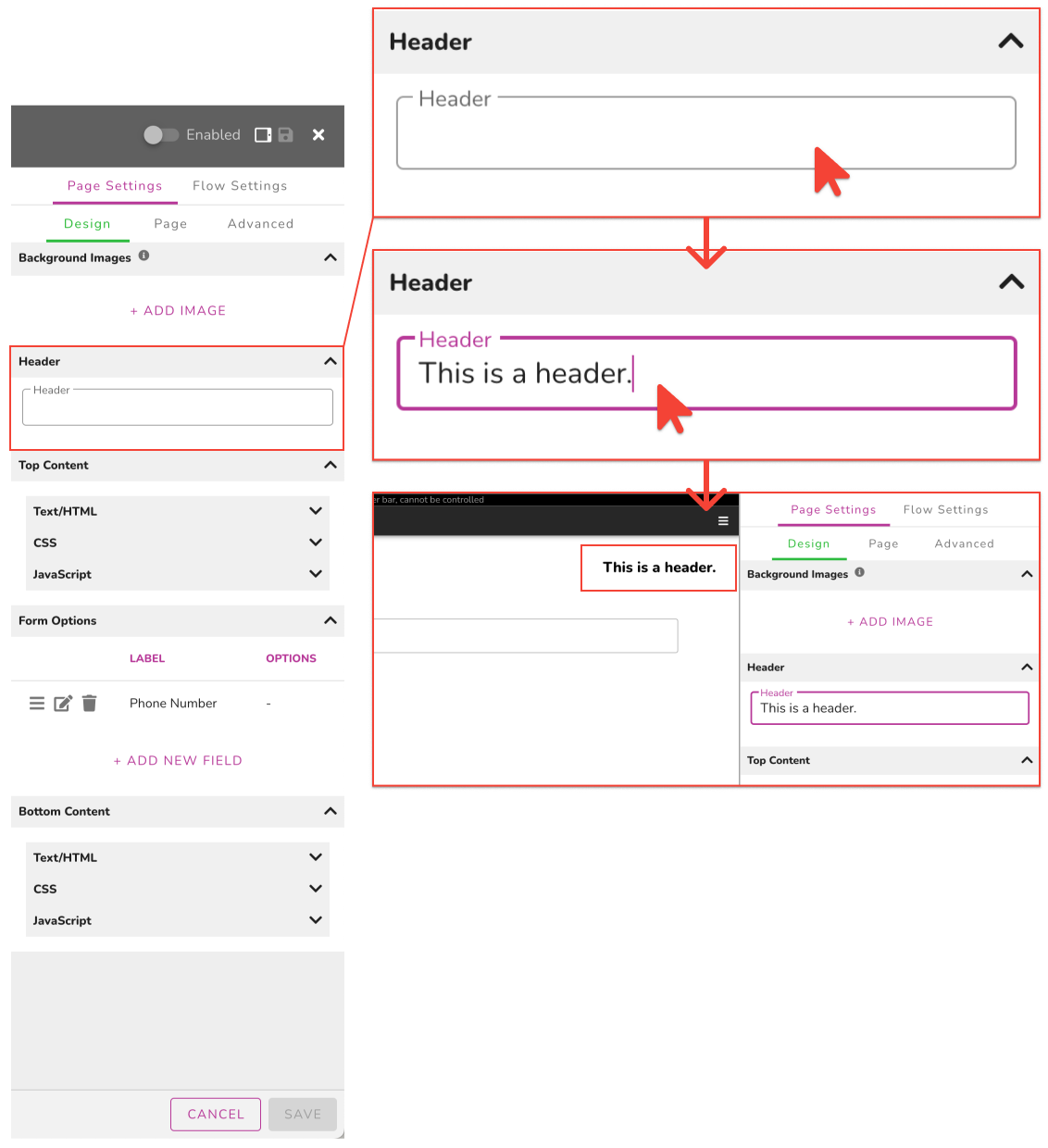 Top Content
Customize the top section of your page using HTML, CSS, or Javascript to meet your specific requirements.
Form Options (Fields Page)
This section allows you to manage all the fields on your page. You can delete the preloaded phone number contact field if it's not relevant. To include additional contact fields, click "Add New Field." You can also apply filters to each new contact field to refine user input. You can also add, rearrange, edit, and delete form options as needed.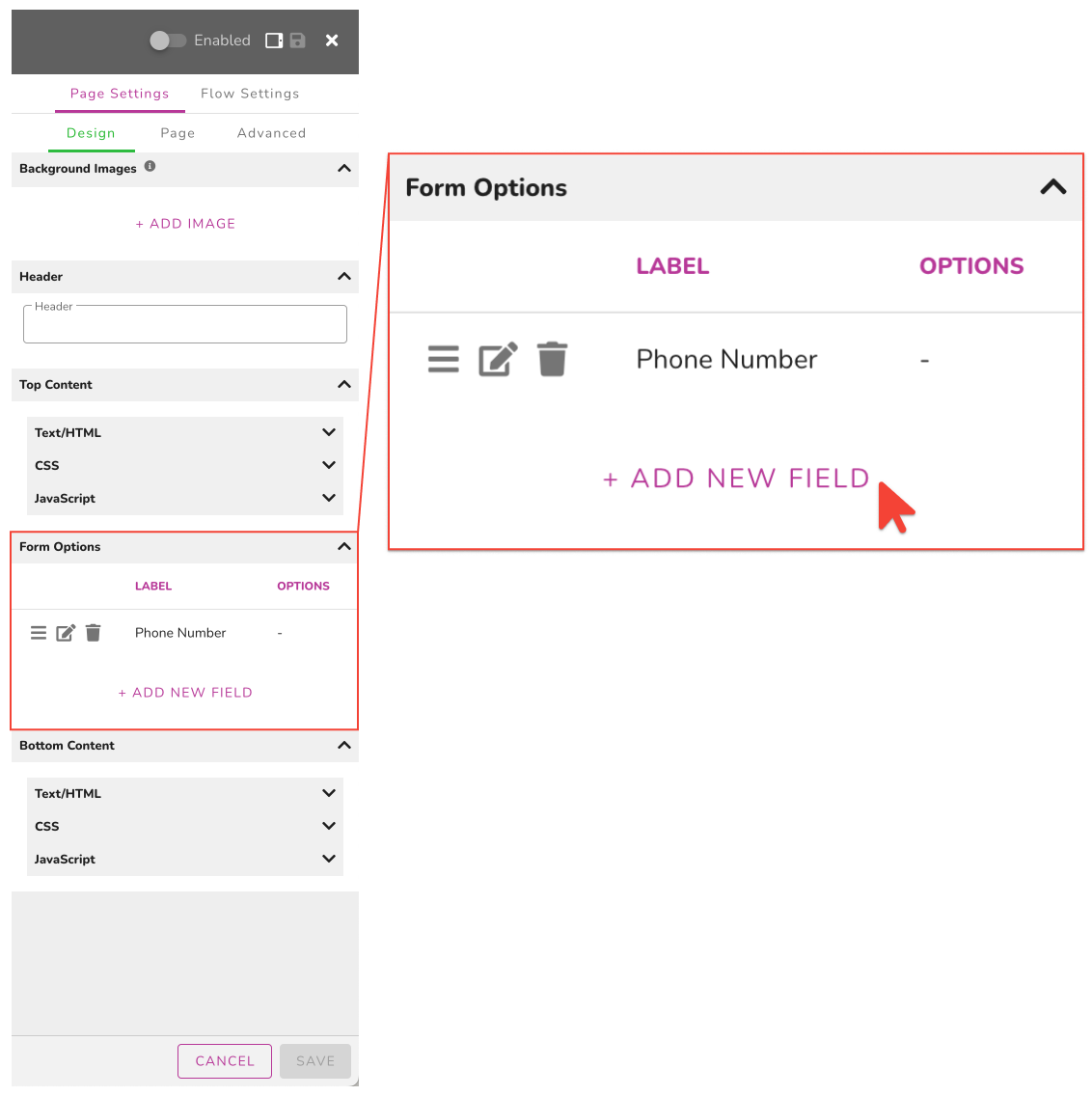 Bottom Content
Similar to the top content, you can customize the bottom section of your Fields page with HTML, CSS, or Javascript.
Smart Offers (SmartOffers)
SmartOffers automatically populates your Offers Page with available deals and promotions.
Add New SmartOffer: Create new promotions and select existing ones, or create entirely new offers to entice your customers.
Choose to Only Show These Offers: Tailor the Offers Page to display specific promotions, ensuring relevance to your audience.
Add "No Offers Available" Message: Customize the message displayed when there are no active promotions. The default message is "There are no offers available."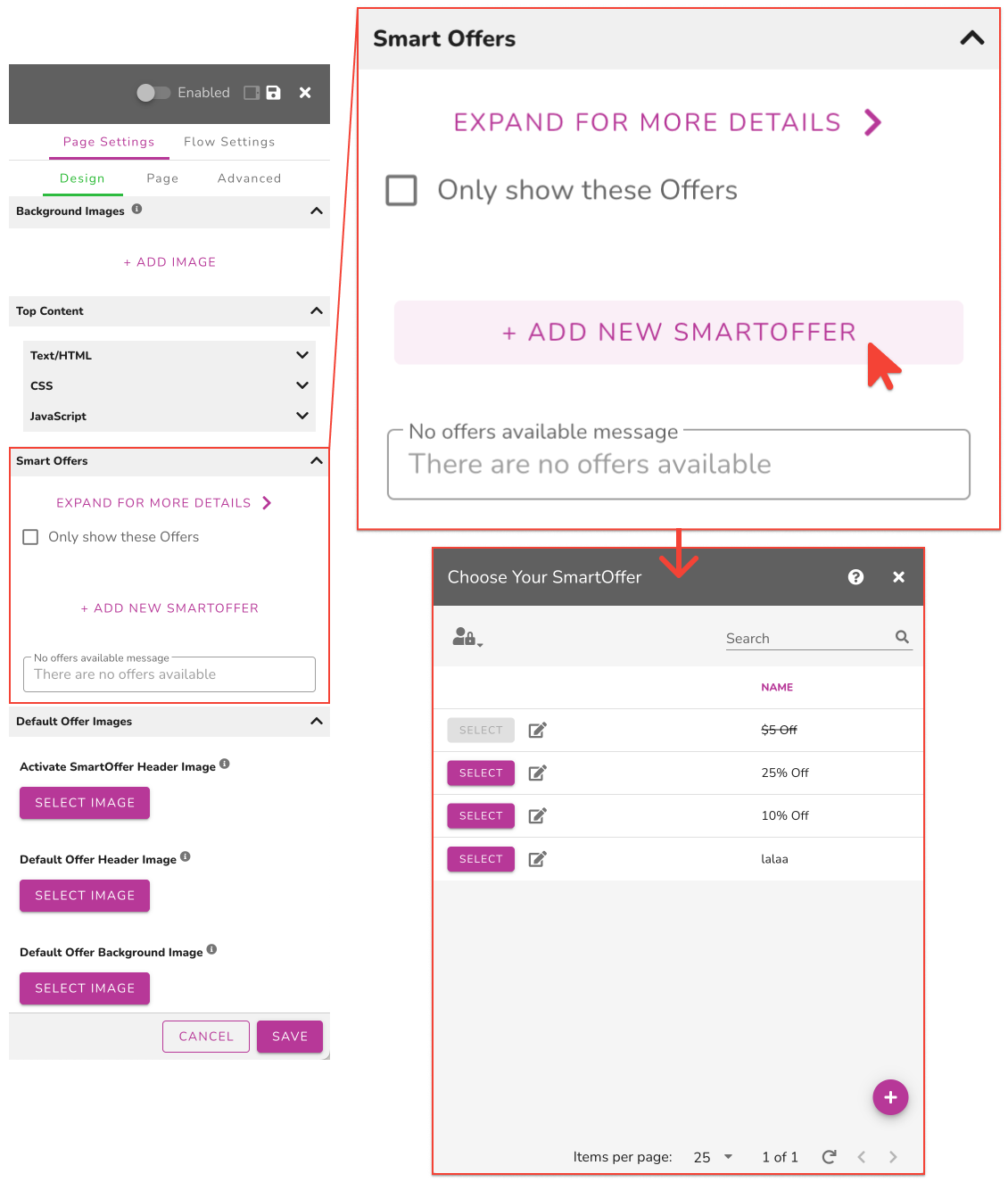 Default Offer Images (SmartOffers)
Configure default images for your offers, including the SmartOffer Header Image, Default Offer Header Image, and Default Offer Background Image.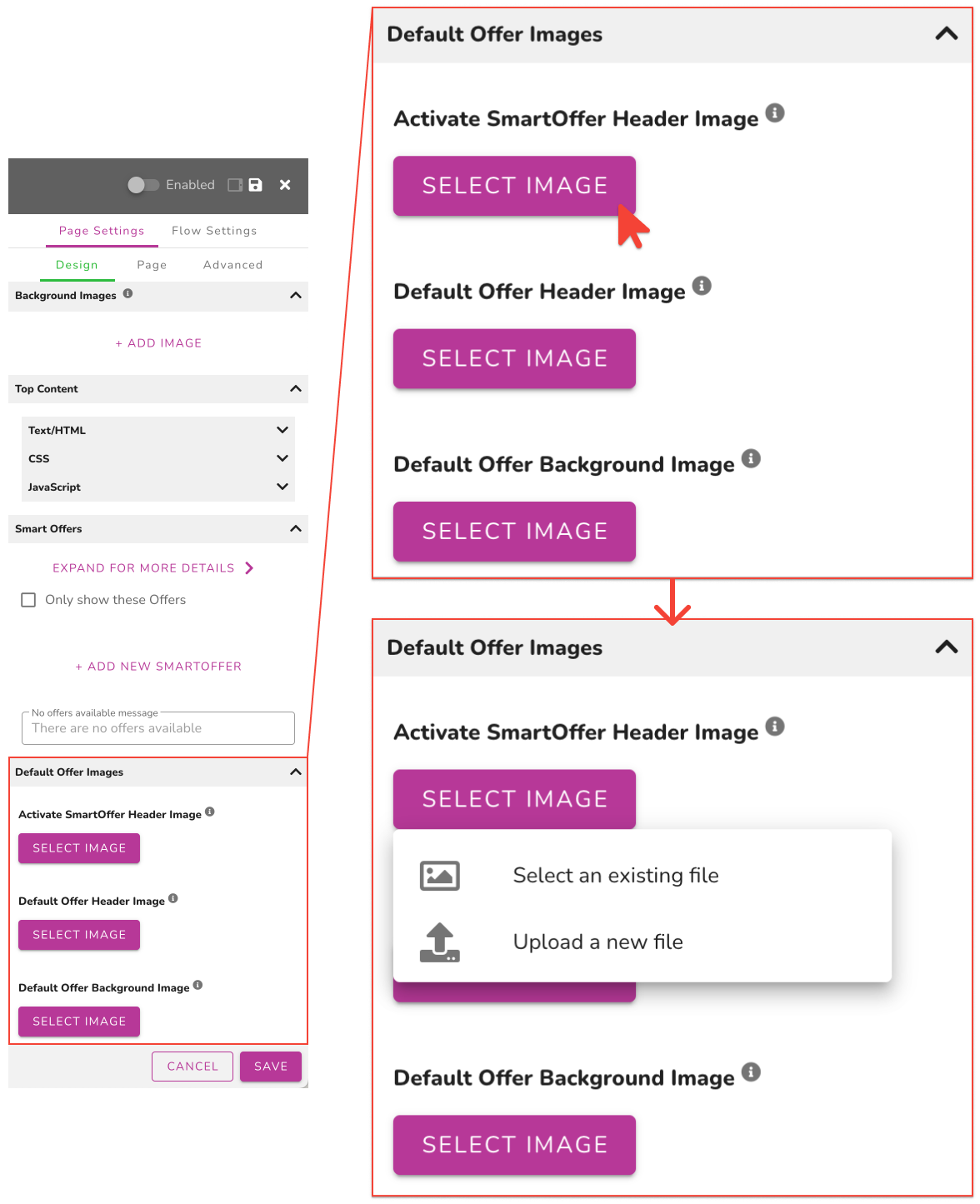 Loyalty Punchcards (SmartOffers)
Enhance customer loyalty and engagement further by incorporating Loyalty Punchcards into your Offers Page. Click "Add New Punchcard" to create loyalty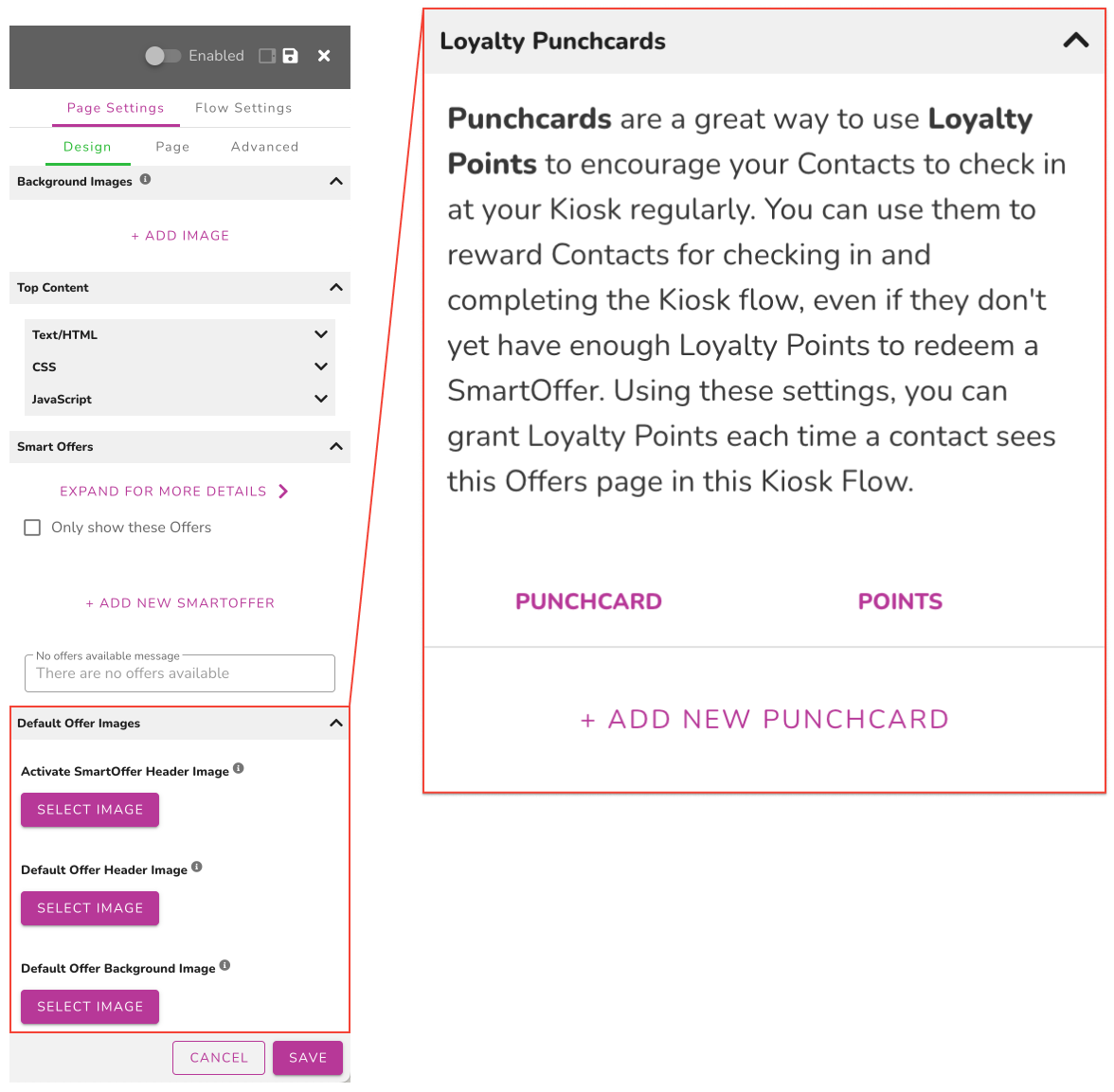 HTML Content (HTML)
Use this section to customize your HTML page with HTML, CSS, or Javascript.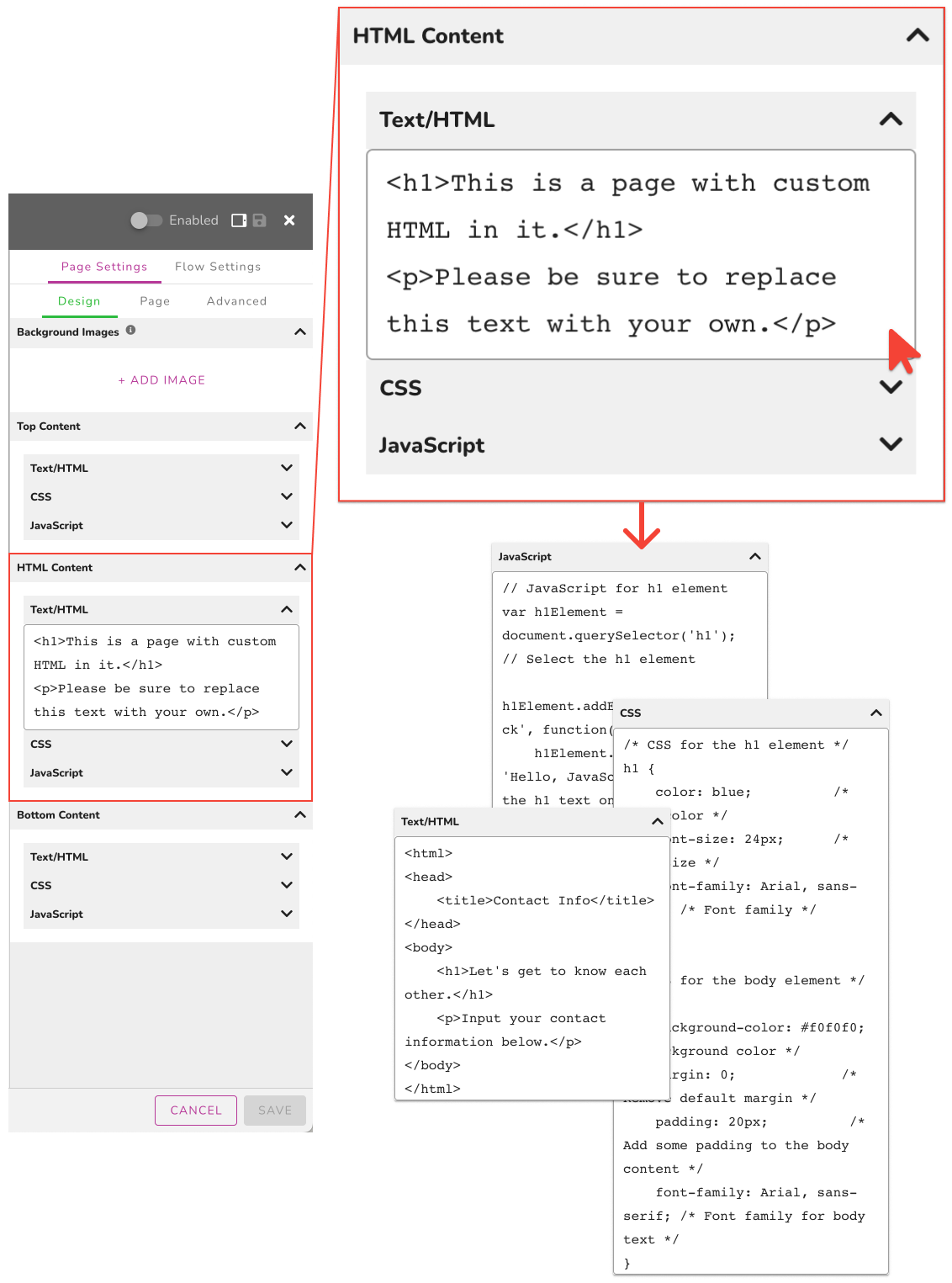 Selection Settings (Selection)
Determine the layout and configuration of the selections available to customers. Add, rearrange, edit, or delete options. For your convenience, this page has been filled with options related to asking kiosk users about their contact preferences. Update this as necessary.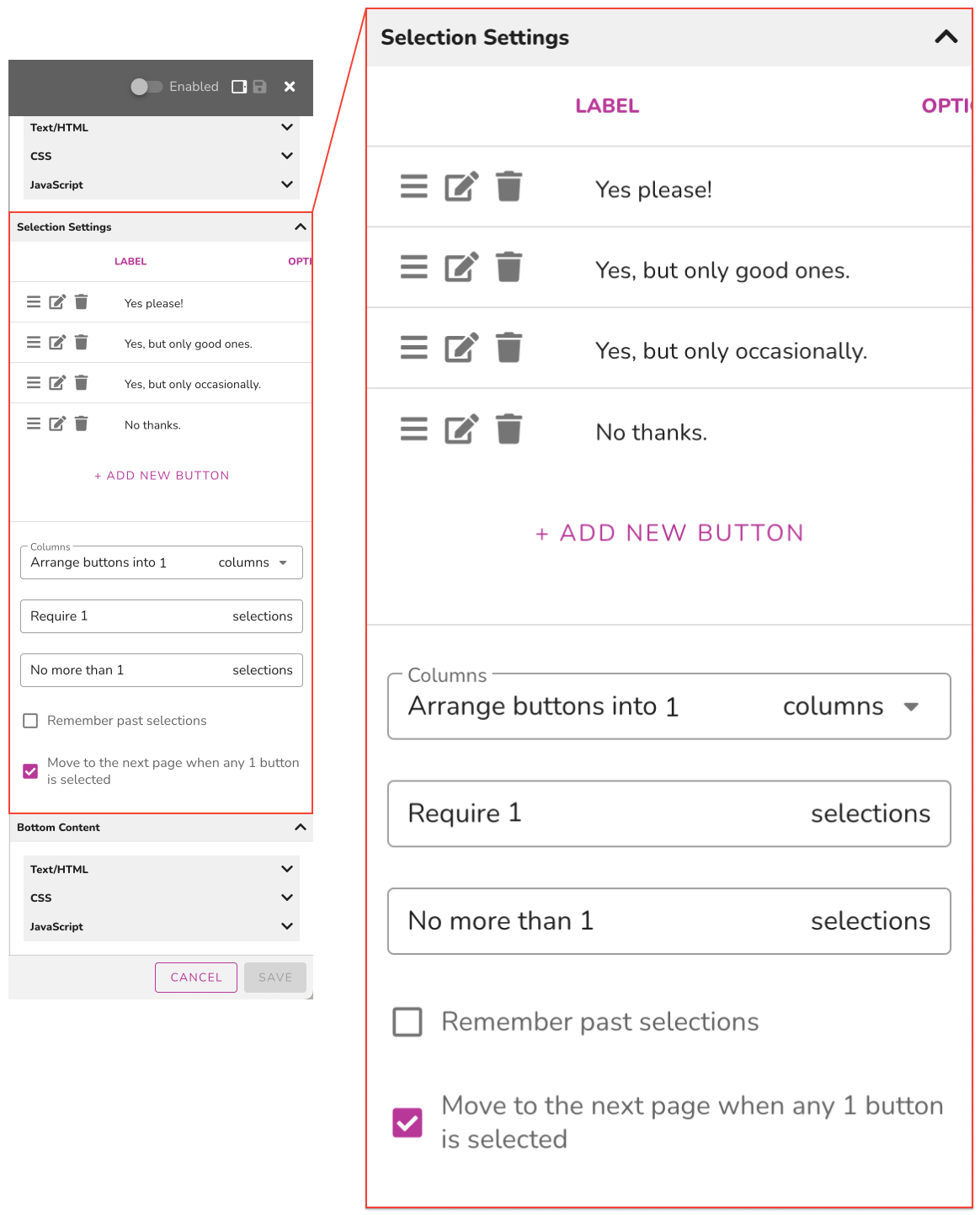 Game Type (Chance)
Spin Wheel
Default Win Phrase: This is the message that users will see when they win a prize on the Spin Wheel. Click on the "Default Win Phrase" field to edit it. Make it exciting and relevant to your brand or event.
Font Size: Adjust the font size to ensure that the text is easily readable, especially on a touchscreen kiosk.
Text Alignment: Choose the text alignment that best suits your design.
Text Orientation: Customize the text orientation, whether it's horizontal, vertical, or curved. Choose an orientation that complements your overall design.
Text Color: Select an appealing text color that matches your branding. Ensure good contrast between text and background for readability.
Text Outline Color: You can add an outline to the text for better visibility. Pick a color that complements your text color.
Pointer Color: Customize the color of the pointer or arrow on the wheel. Make it visually striking to guide users effectively.
Center Image: Upload an image that will appear at the center of the Spin Wheel. This could be your logo or a fun graphic related to your game.
Custom Wheel Image: Customize the appearance of the Spin Wheel itself by uploading a custom image. Ensure it's relevant to your game and brand.
Background Audio: Add background audio to create a more immersive experience.
Choose music or sounds that match the theme of your game.
Last Spin Time Field: This is a timestamp field that is set when the wheel is spun. You can set this to Create Time, Expire Time, or Redeemed Time.
Allow next spin after X seconds: Define a time delay before users can spin the wheel again. This prevents spamming and ensures fairness.