In this step-by-step guide, we'll walk you through the process of adding a Welcome Page to your kiosk flow and configuring its settings to ensure it meets your specific requirements.
The Welcome Page in your kiosk flow is a crucial element that sets the stage for a smooth and engaging customer experience.
Accessing the Welcome Page
When you create a new Kiosk flow, a Welcome page will be added for you. If something happens and you need to add a new Welcome page, click on the purple plus button in your kiosk flow interface. From the menu that appears, select "Welcome." It's important to note that the Welcome Page must always be the first page in your kiosk flow.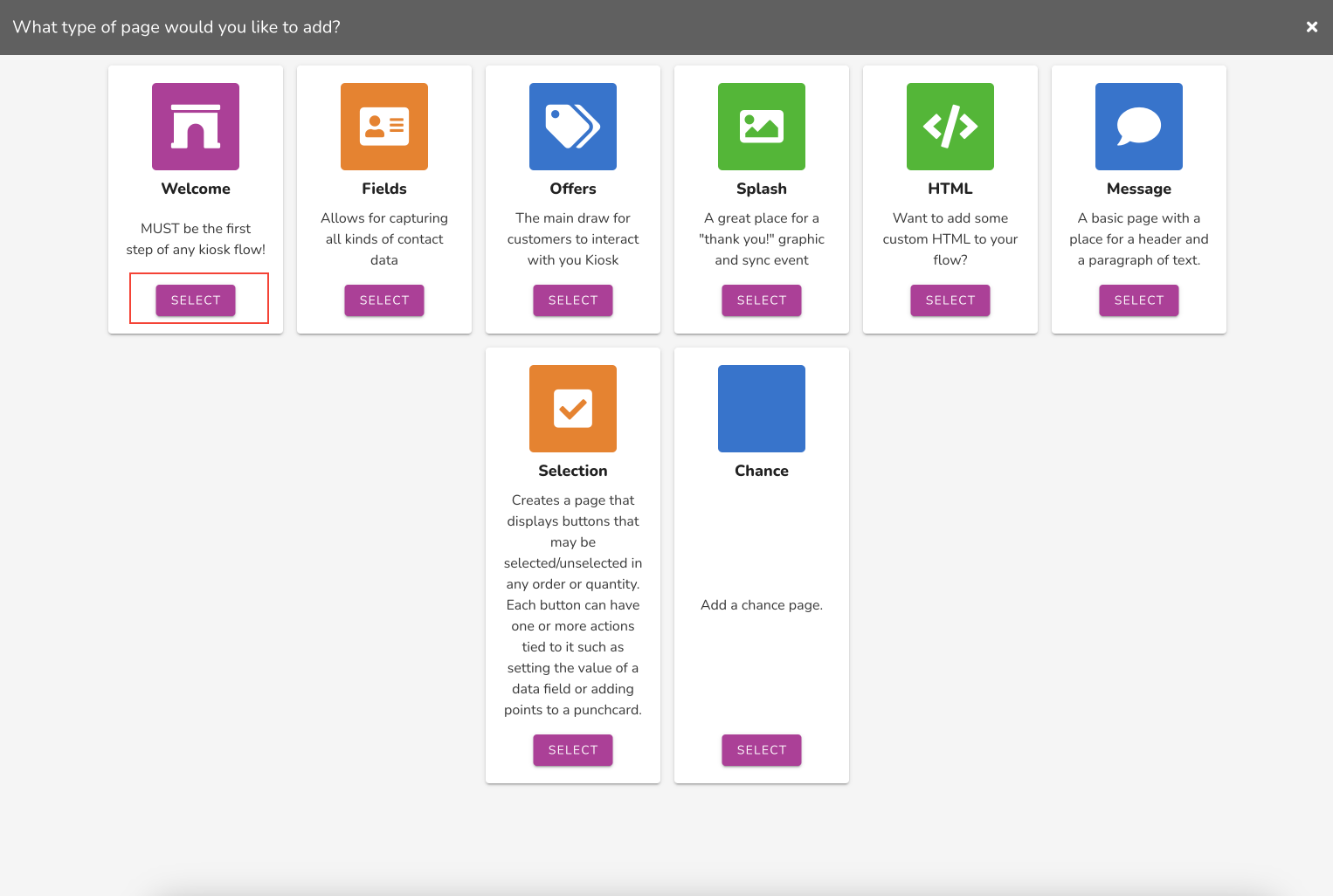 Welcome Page Settings
Once you've added the Welcome Page, it's time to configure its settings.
Design
Background Images: To enhance the visual appeal of your Welcome Page, click "Add Image." You can select an existing image or upload a new one. Additionally, you have the option to add multiple background images and set how often they change.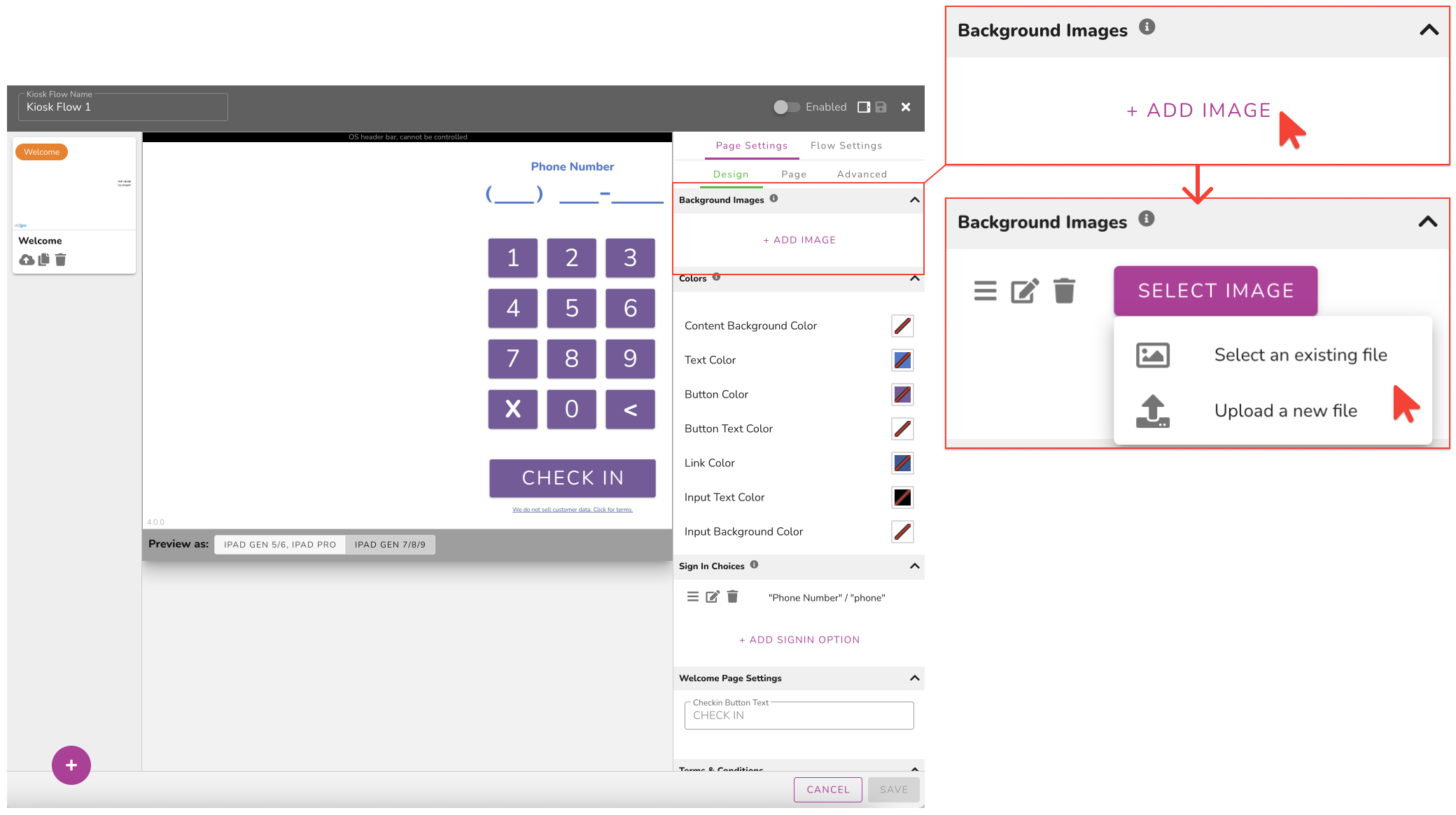 Colors: If you have selected brand colors within your Account Settings, these colors will populate here. Otherwise, use this section to customize the color scheme of your Welcome Page so that it aligns with your brand identity. The following color settings can be configured: Content Background Color, Text Color, Button Color, Button Text Color, Link Color, Input Text Color, and Input Background Color.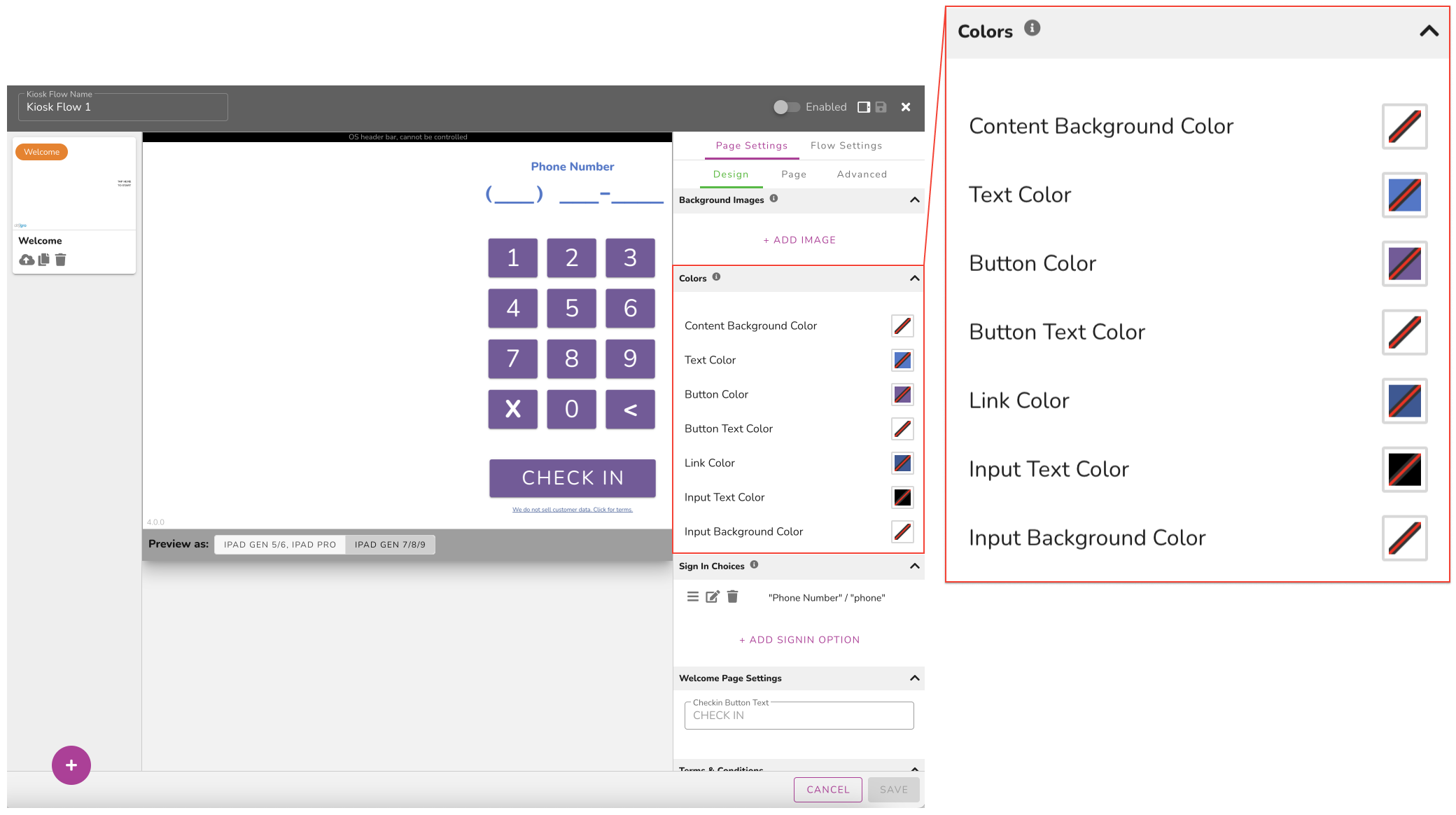 Sign-In Choices: By default, the Welcome Page uses the Phone Number option with a Patch Number Pad. Alternatively, you can choose to allow sign-in using Contact Email Address or PIN Number. Select the keyboard option that best suits your kiosk: Device Email Keyboard, Device Number Pad, or Patch Number Pad.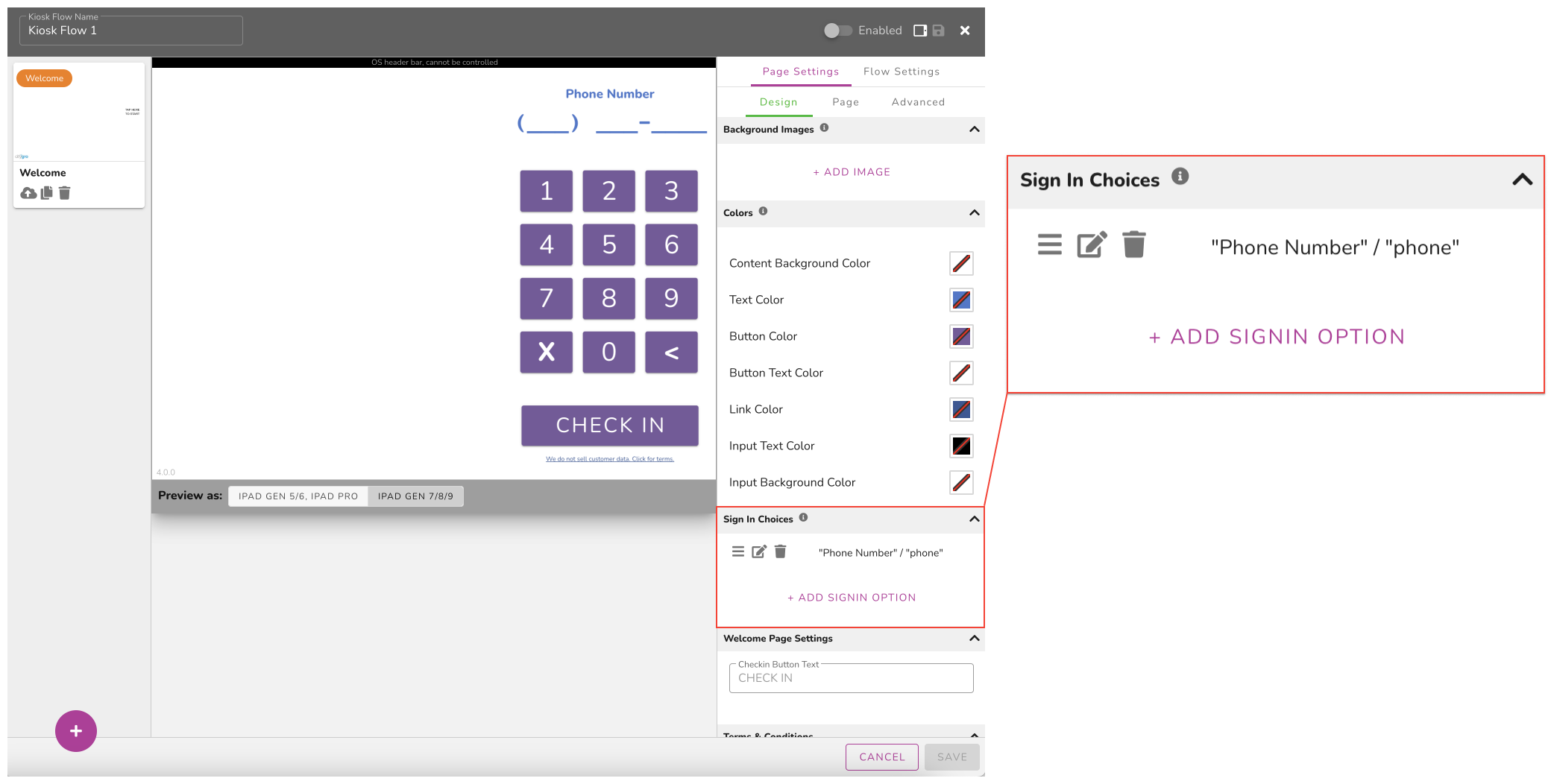 Welcome Page Settings: Your Check-In Button can be customized according to your specific use case.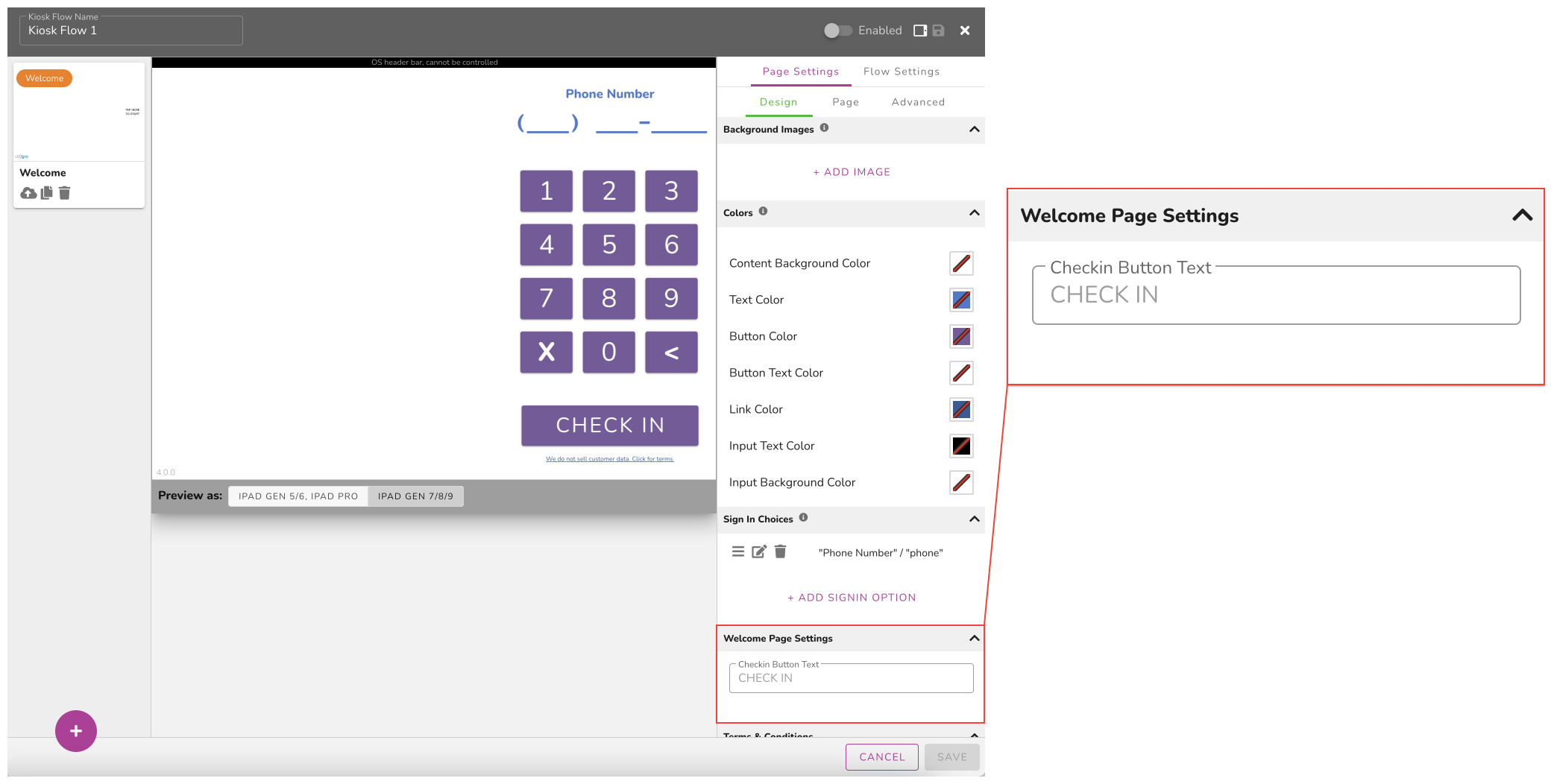 Terms & Conditions: You can choose to hide or display the Terms & Conditions. Terms & Conditions and link text are available by default. You can update verbiage and provide a URL for the terms if needed by using the Terms Link Text and Terms URL inputs, respectively.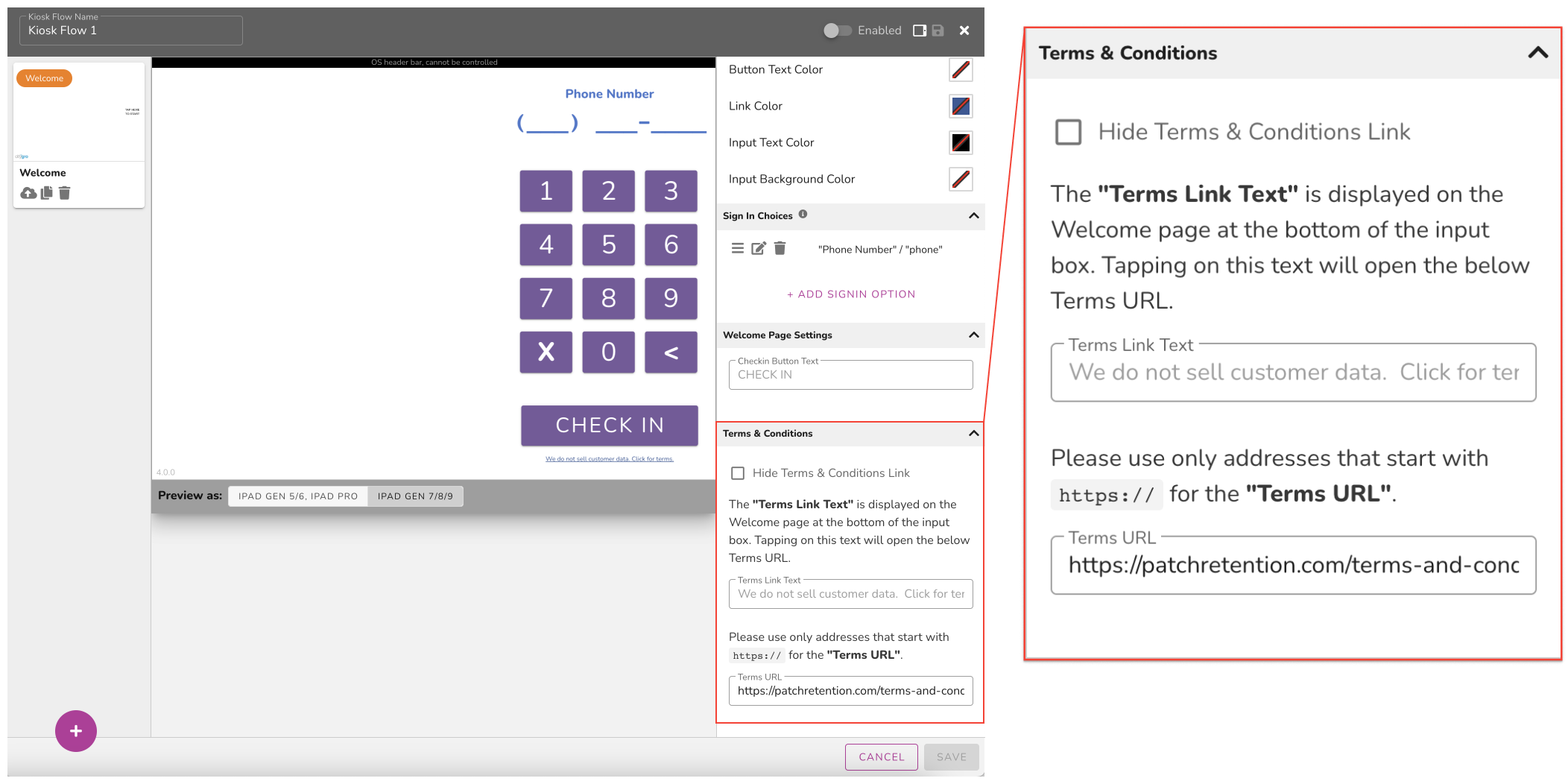 Page General Settings
Give your Welcome Page a name for easy reference within your kiosk flow. You can also decide to deactivate this page within the flow temporarily.
Advanced Settings
Sync Settings: Configure the Sync Settings to determine when this page's data should be synced with the server. You can set the page to sync when it is completed, and choose the sync event, typically "Start Checkin." Choose whether Contact must exist to proceed and whether new contacts can be created.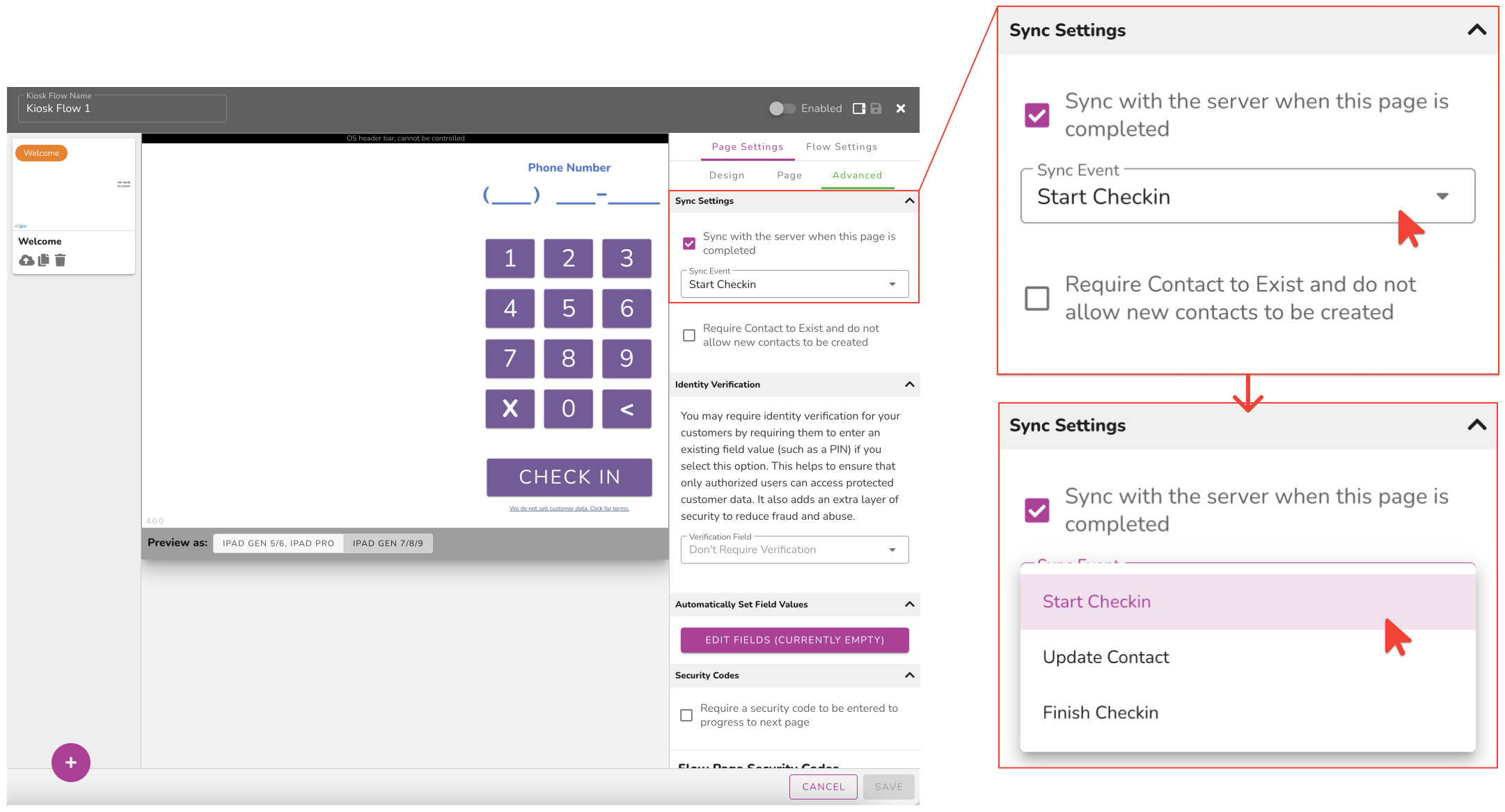 Identity Verification: If identity verification is required, you can add a PIN Number option.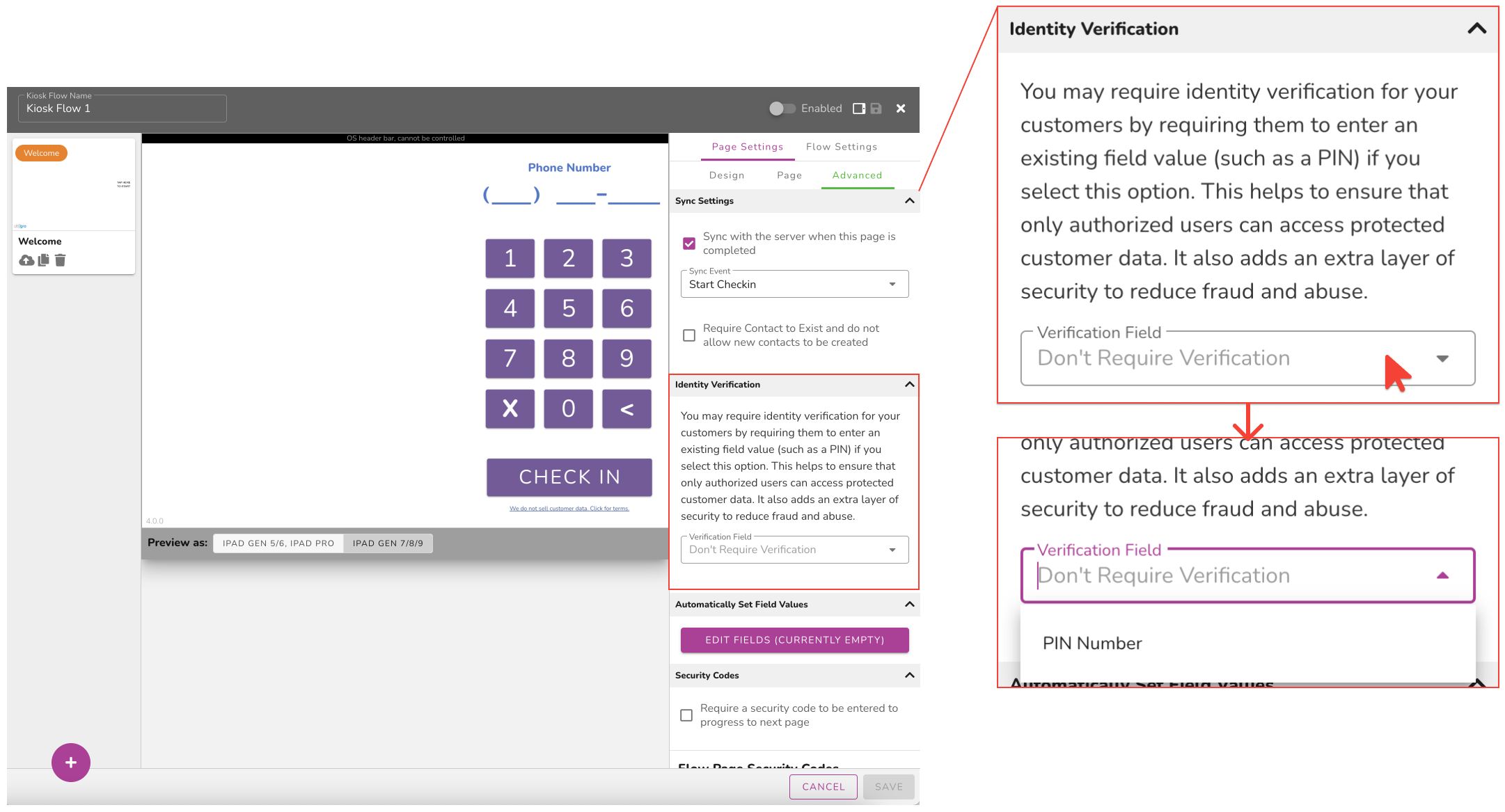 Automatically Set Field Values: Add filters to the Kiosk page.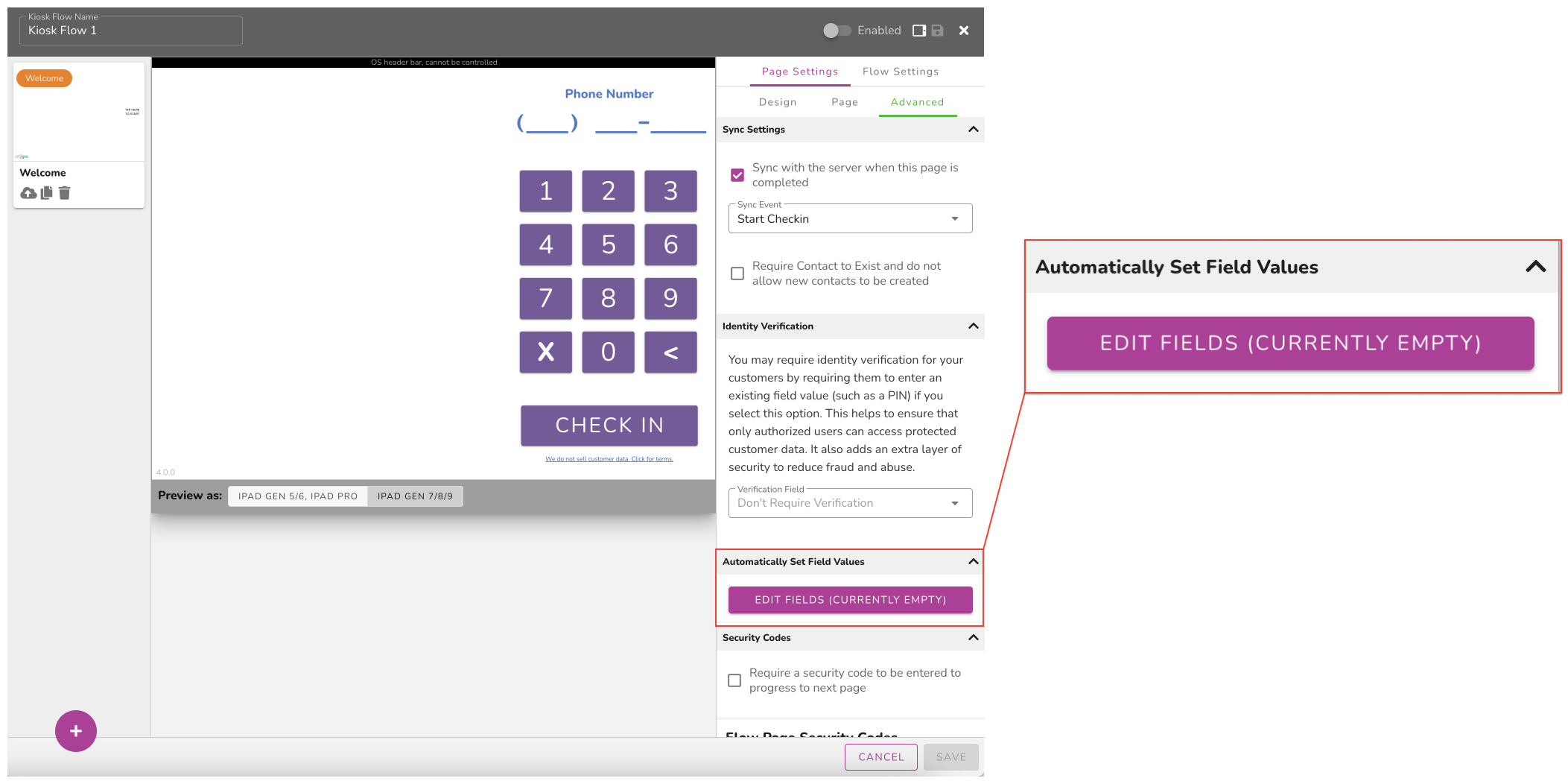 Security Codes: Require a security code to progress to the next page and add new security codes as needed.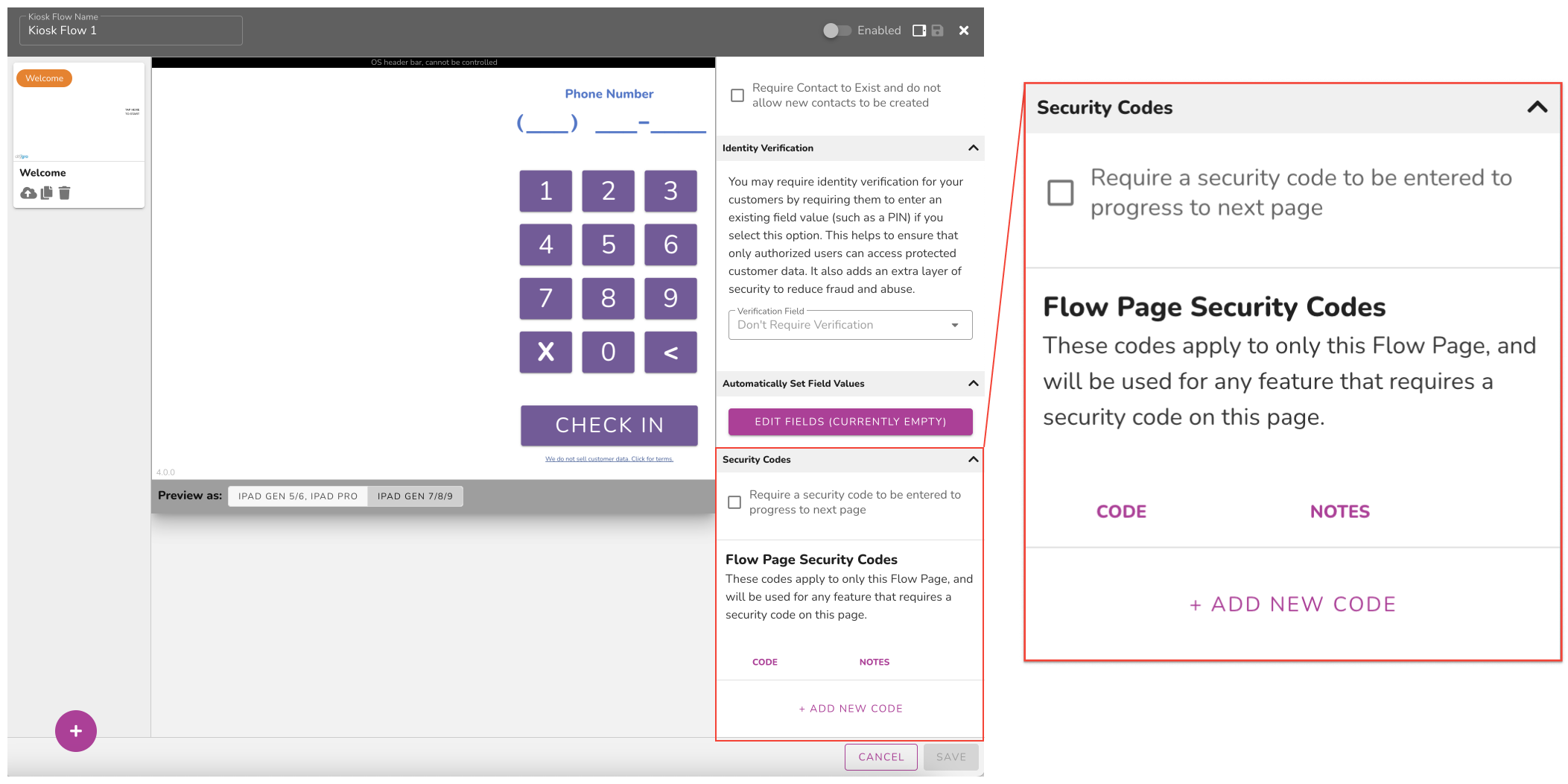 Welcome Page Flow Settings
You can customize the background and text colors of the Back and Next buttons.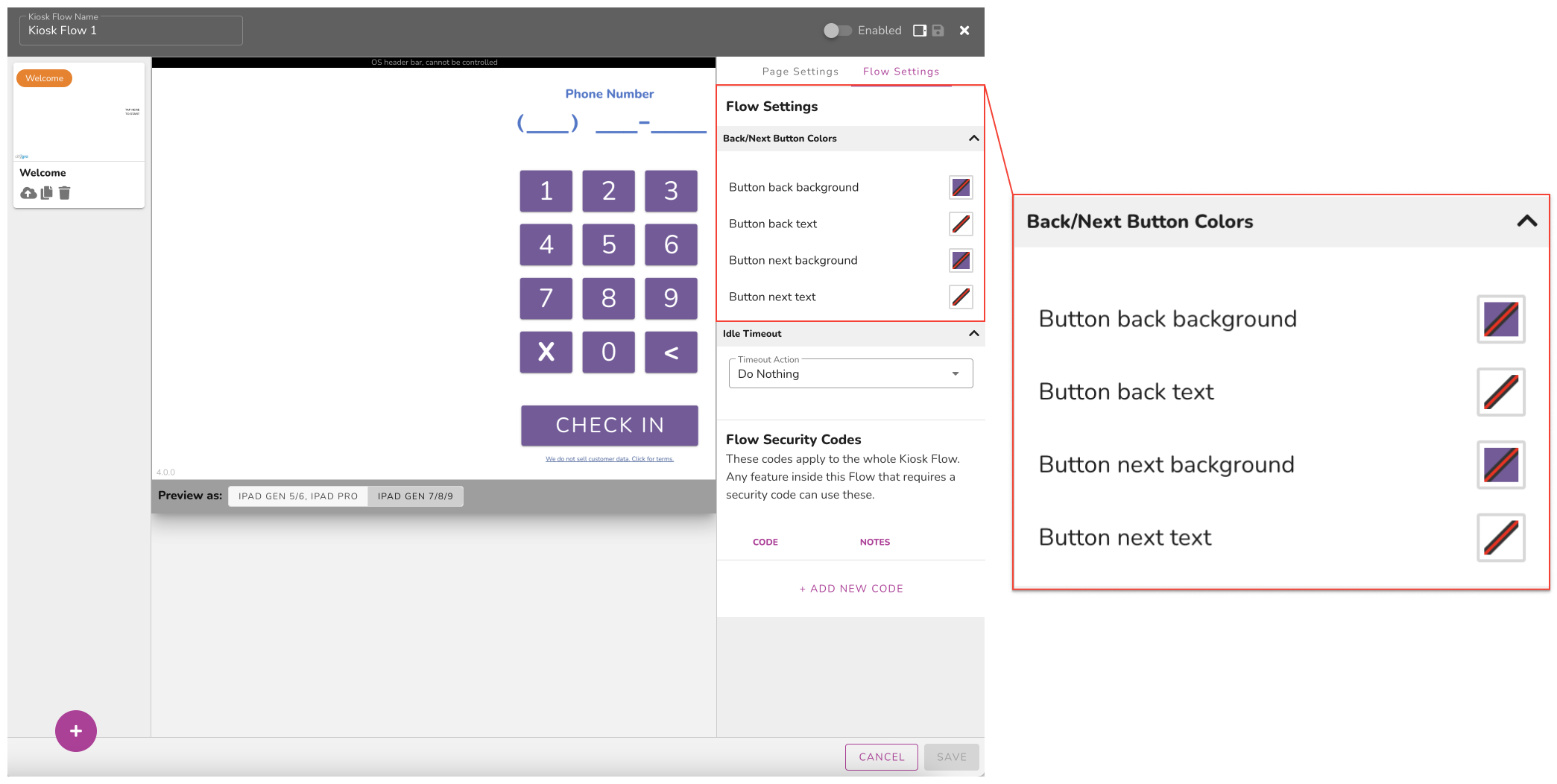 Idle Timeout behavior can be customized based on your preferences.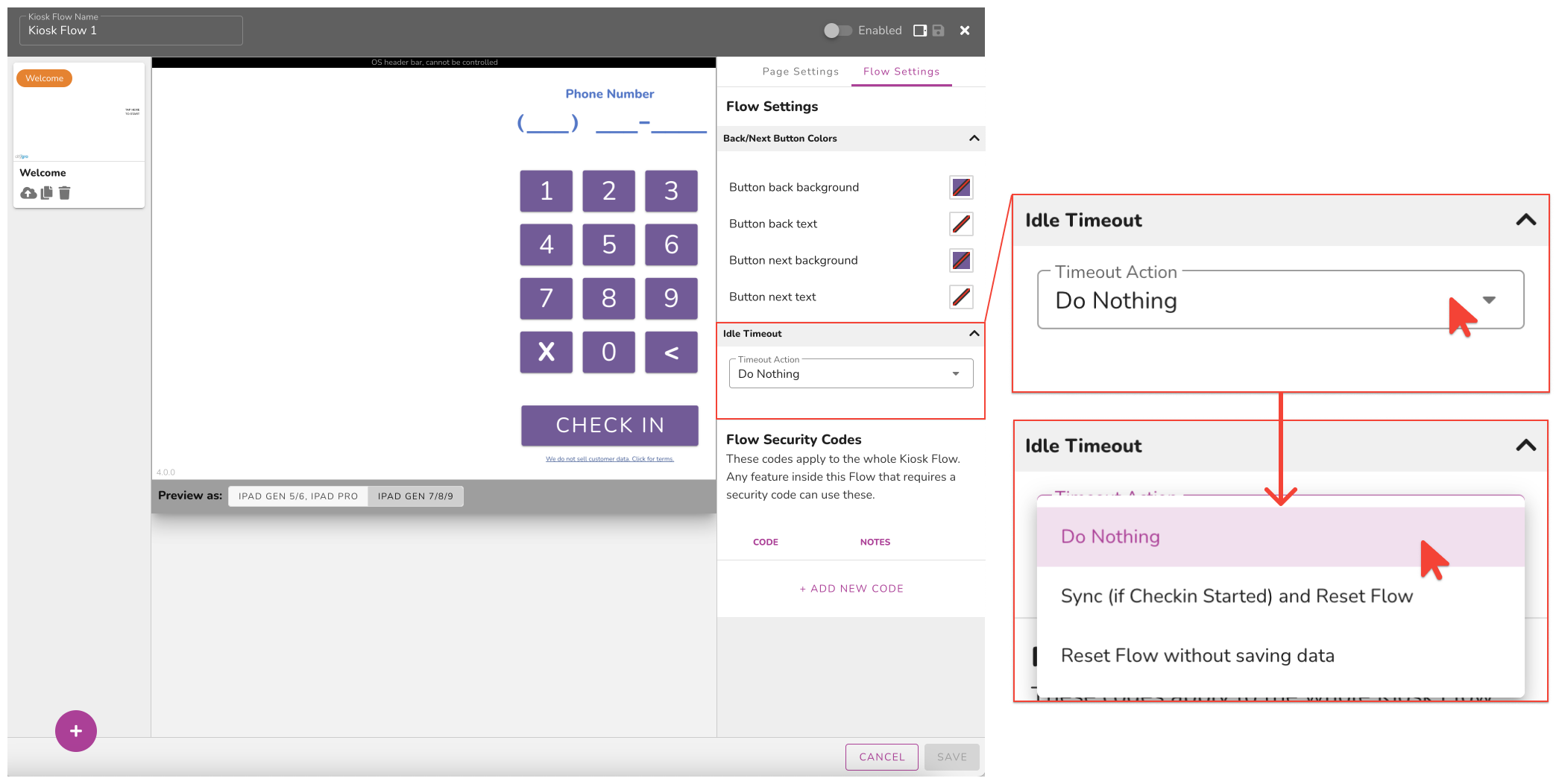 If needed, configure Flow Security Codes by adding new security codes.