How to use the Create FREE Order block within Patch Automations
We are thrilled to announce a powerful new feature to enhance your eCommerce experience: the Create 'Free' Order block within Automations. This innovative addition to Patch Retention's suite of tools allows you to set up automated campaigns based on specific criteria to generate and send 'free' orders to your customers. Reward your most loyal shoppers, win back at-risk customers, and strengthen your customer relationships with this game-changing feature.
How the Create 'Free' Order Block Works
With the Create 'Free' Order block, you can now automatically generate an order in your eCommerce store and send it to a customer free of charge. This feature is perfect for rewarding customers who meet certain milestones or re-engaging those who may be slipping away.
Common Use Cases
Rewarding Customer Milestones
Celebrate your customers' loyalty by recognizing when they move from one RFM bucket to another. For example, when a customer transitions from the Loyal Bucket to the Champion Bucket, this signifies a significant achievement. Commemorate this milestone by sending them a free VIP or Swag Bag to show your appreciation.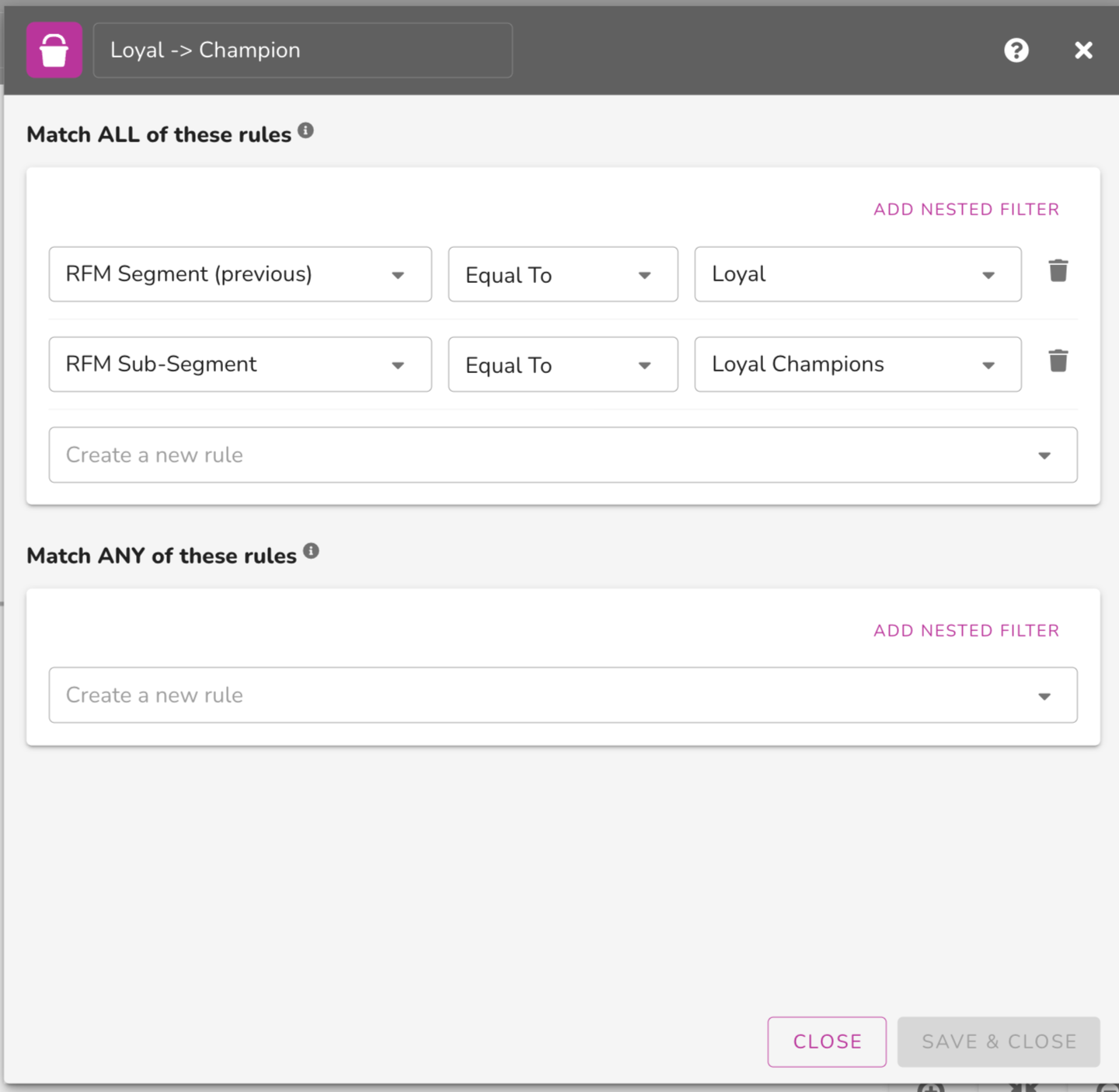 Winning Back At-Risk Customers
Sometimes even the most loyal customers can slip into the At-Risk RFM bucket. To re-engage them and demonstrate your gratitude for their patronage, use the Create Free Order block to send them a free product(s). Including a discount or gift card in their package can also encourage them to make another purchase, preventing them from becoming lost customers.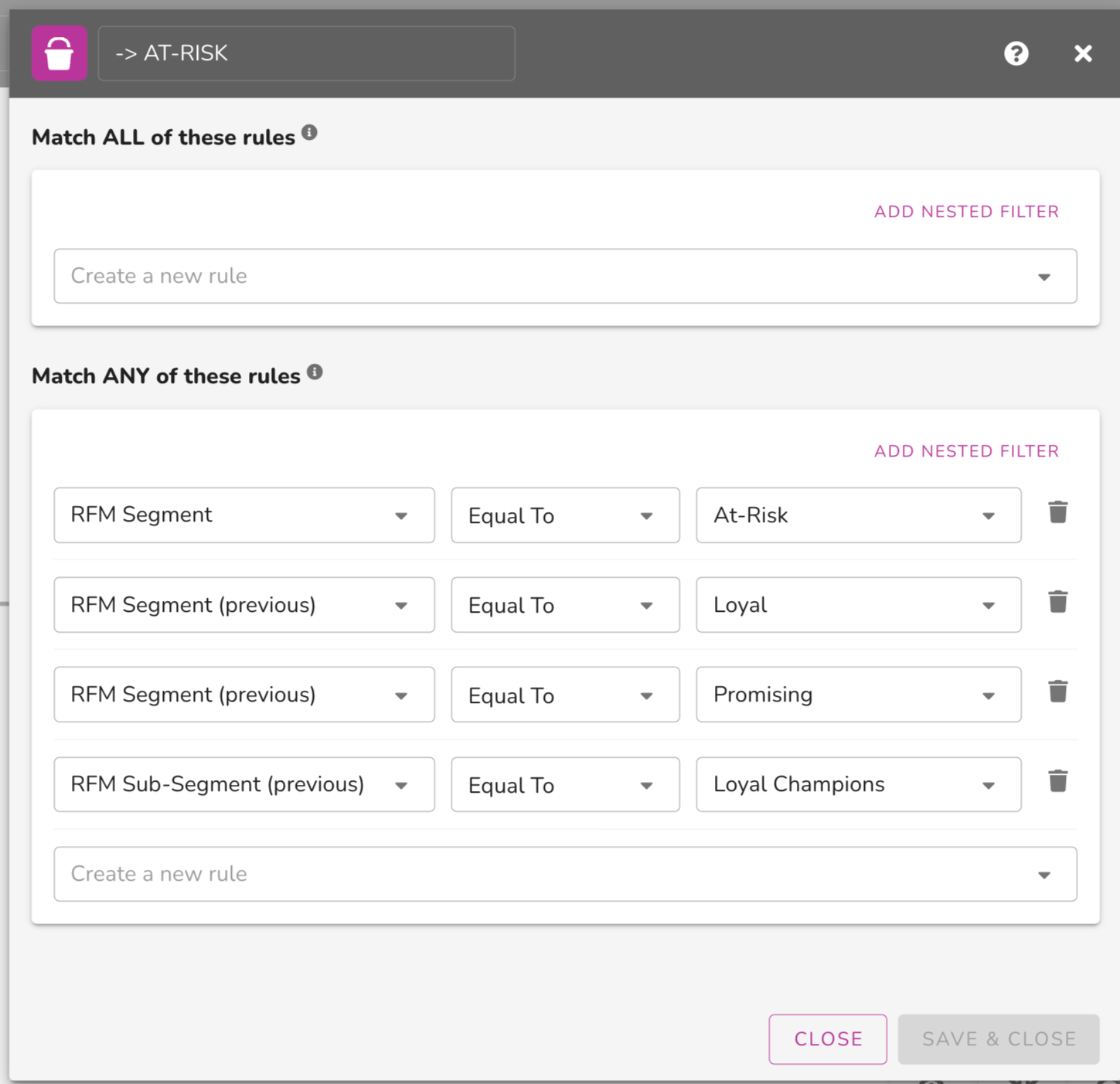 How to create an RFM-based Customer Journey
Automation Trigger Blocks - Customer Journeys
Getting Started
Choose Product
You will want to pick which product(s) you are wanting to send to your customers. This could be a regular product you carry or some businesses create a custom Swag Bag or VIP Bundle to send. The value of the offer depends on which segment of customers you are targeting and the value they provide to your business. Using Patch's RFM Dashboards you can easily see your average Customer Lifetime Value to help decide what to offer. Once you have decided or created the product you wish to include you can proceed to your Patch Account and begin building your Automation.
Build Automation
Log in to your Patch Retention account and navigate to the Automations module.
Either create a new automation using the 'Start from Scratch' option or edit an existing one.
Determine what will trigger this order to go out. The examples above use the 'Contact RFM' Trigger block. This block allows you to send out the order based on a customer moving from one bucket to another. An alternative option could be sending out a free order for someone's birthday (At Time + Filter Block) or after their X number of purchases (Order Finished block).
Once you have determined what will trigger the automation to run you will then drag the Create Order block onto the canvas.
Now you need to configure the Create Order block.
'Select Product'


By default, the order will automatically be created in Shopify, marked as paid at $0 with free shipping.

'Mark this order as completely free'
You have the option to send an order that is not marked as free however this is uncommon for the intended use of this block.

'Prefer shipping address stored in Contact (Patch portal) over default shipping address stored in Shopify Customer. (Name, Address, City, and Zip are required)'

This is unchecked by default. We recommend leaving this setting unchecked unless you know that your Customers' addresses in Patch is more reliable across the board for all customers compared to Shopify. If you have questions regarding this setting please reach out to Customer Success using the TextChat widget located in the bottom left corner of your Patch account or by emailing

success@patchretention.com

.



The following scenarios will happen based on this setting:

If the box IS NOT checked (recommended)

Contact exists in both Patch & Shopify (Shopify customer ID logged in Patch), address in Patch only, an order placed with blank address
Contact exists in both Patch & Shopify (Shopify customer ID logged in Patch), address exists in Shopify only, an order placed with Shopify address
Contact only exists in Patch only (no Shopify customer ID is logged) it will create the Contact in Shopify but the order is not placed
Contact exists in both Patch & Shopify, two different addresses exist, Shopify address will be used, and Patch Contact will be updated after the order is placed via Contact Updated Event

If the box IS checked

Contact exists in both Patch & Shopify (Shopify customer ID logged in Patch), address in Patch only, Order is placed and the address is updated in Shopify on the customer profile
Contact exists in both Patch & Shopify, address in Shopify only, no order placed
Contact exists in Patch only with no Shopify ID, a customer profile will be created in Shopify but the order will not be placed
Contact exists in both Patch & Shopify, two different addresses exist, Patch address will be used and override Shopify
Once the Create Order block is configured click Save, Approve & Close.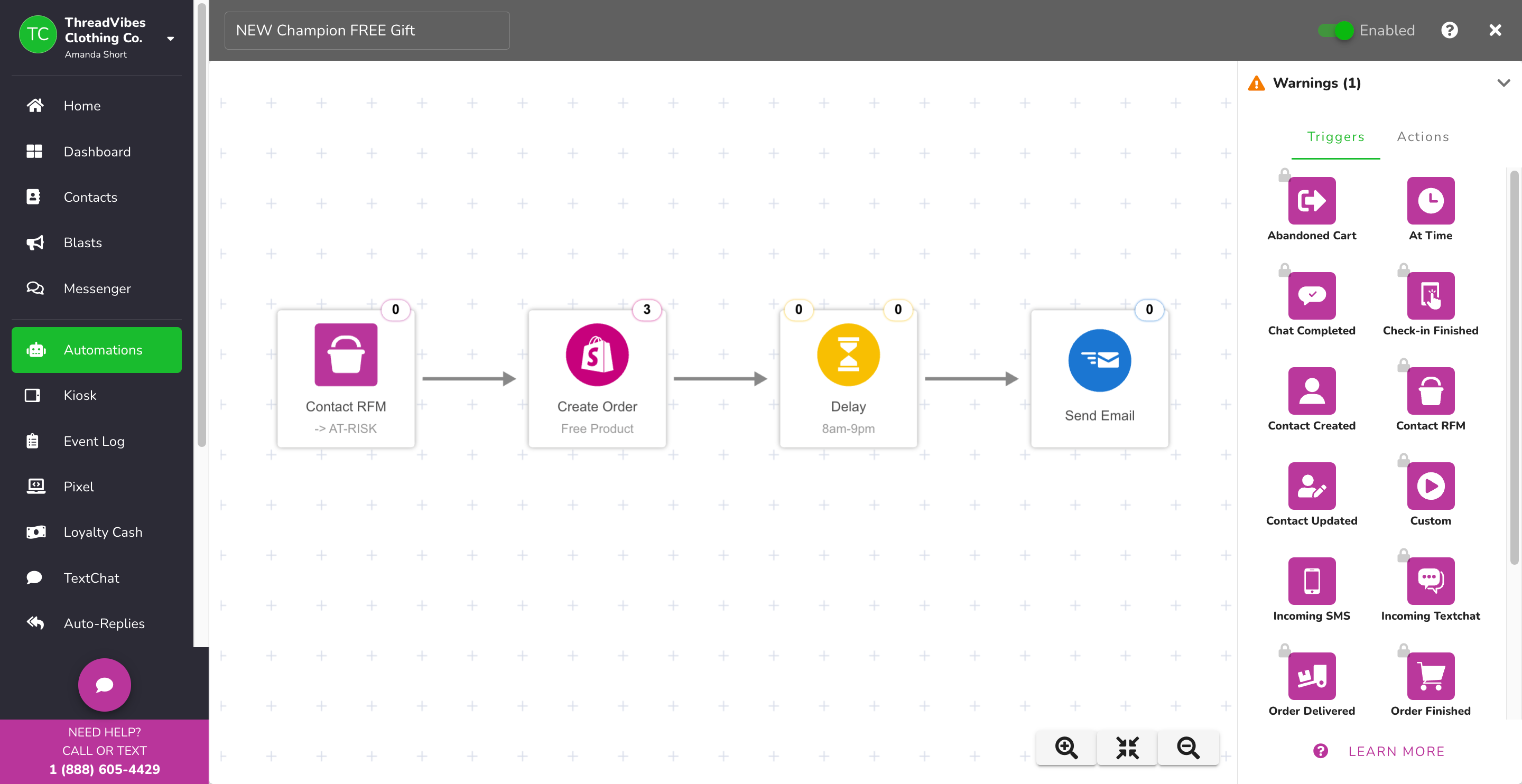 Customer Communication
Due to Shopify's built-in settings, the customer will receive an order confirmation email from Shopify so we recommend adding a Send Email or SMS block to send communication to the customer about the free gift.
Once you have reviewed, tested, and approved all your blocks simply enable your Automation.
The Create Free Order block within Automations is a powerful tool for eCommerce business owners looking to enhance customer loyalty and retention. By automating rewards and re-engagement efforts, you can create personalized experiences for your customers and foster long-lasting relationships.