Messenger is a two-way text messaging inbox that allows businesses to text back and forth with their customers and potential customers. It offers higher engagement, more answered questions, and more sales.
With Messenger, you can review and provide info on purchases, assist customers with tracking and shipping, generate and convert leads, solicit feedback, and much more right from your mobile phone or the Patch Portal.
Today we want to review primary functions that are essential to unlocking the power of Messenger and driving retention to unlocked levels.
These functions are:
Tags

Completing Chats

Archiving

Assigning to Reps

Snooze

Scheduled Messages
Tags
Tags are a powerful tool in Patch Retention's Messenger feature that can help eCommerce retailers stay organized and streamline their customer communication. When you're juggling multiple conversations with different customers, it can be difficult to keep track of what each conversation is about. That's where tags come in.
The orange bubbles underneath the customer's name in Messenger are tags. These tags can help identify what the conversation is about and make it easier for you to quickly find the information you need.
There are two ways to add a tag to a conversation. You can either hover over the conversation on the left side of your inbox and click the Tag icon, or when a conversation is open simply click on the three dots in the upper right-hand corner of the Messenger window.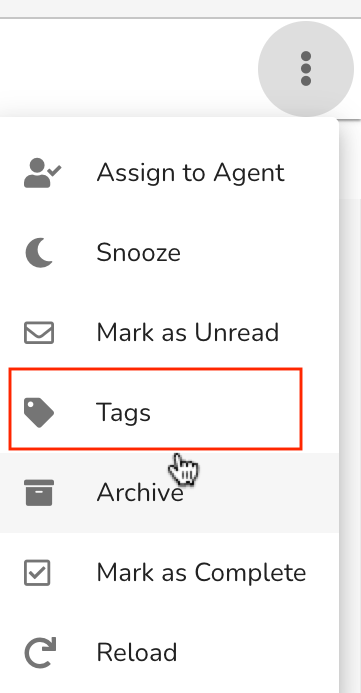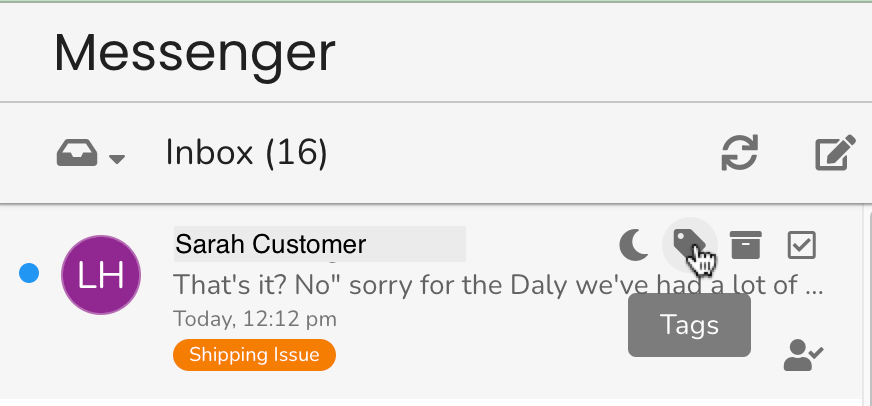 From there, you can check or uncheck items to add or remove tags for the current conversation. You can also create custom tags that are specific to your business needs.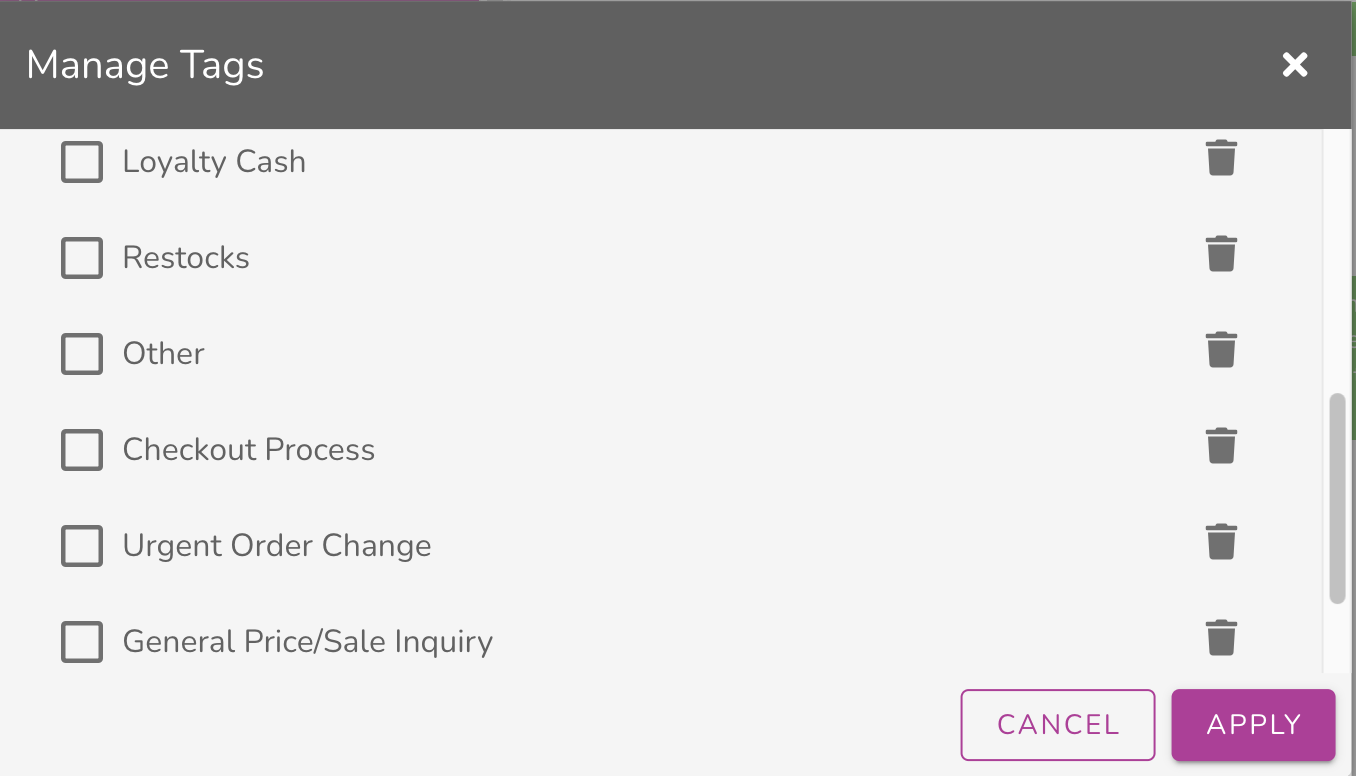 Common Tags include:
Returns: Use this tag to keep track of conversations related to product returns.
Shipping: Use this tag to keep track of conversations related to shipping and delivery.
Restock: Use this tag to keep track of conversations related to product restocking.
Store Hours: Use this tag to keep track of conversations related to your store's hours of operation.
Exchange: Use this tag to keep track of conversations related to product exchanges.
Loyalty Points: Use this tag to keep track of conversations related to your loyalty points or rewards program.
Out of Stock: Use this tag to keep track of conversations related to out-of-stock items.
Promotions: Use this tag to keep track of conversations related to your current promotions or deals.
Discount Code: Use this tag to keep track of conversations related to discounts or coupons.
By using Tags in Messenger, you can quickly apply relevant information to each conversation for anyone logged in to see. This feeds into your Tools Dashboard and can help provide in-depth analytics on trending topics and recurring issues, allowing you to better understand your customer communication and improve your customer retention efforts.
You can set up Automations based on certain Tags that have been applied, when an agent marks a chat as complete, which can help you streamline your processes and improve your customer retention efforts.
Now let's dive into closing out conversations or 'chats'.
Closing Chats or Marking a Chat as Completed
This feature moves the message from Inbox to All and signifies that you are done with that conversation. Not only does it clean up your inbox so you know who is waiting on a response, but you can also set up Automations based on a conversation being completed. You can even trigger custom Journeys through Automations when you combine Tags and Chat Completed. Note a conversation can only be marked as 'Complete' once every 3 days. This helps avoid an automation from being retriggered for the contact too soon.
To mark a conversation or chat as complete you can either click the three dots in the top right corner of an open conversation or by clicking the x icon when hovering over the left side of the inbox.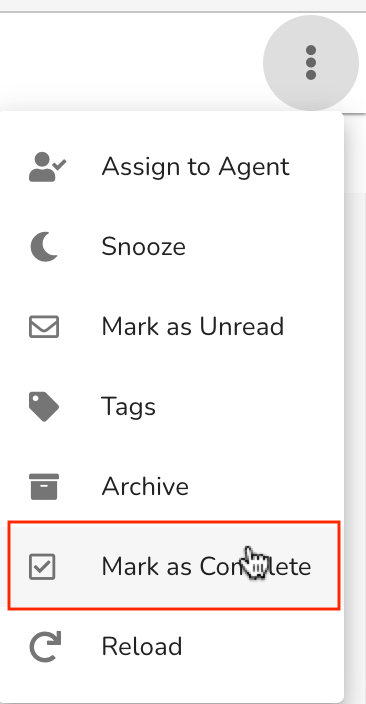 Archiving Chats
Archiving chats can help you keep your inbox organized and ensure that you're only seeing active conversations. Sometimes even after selecting 'Mark as Complete', a customer will respond to the conversation causing it to reappear in the Inbox. Since you can only mark a chat as complete once every 3 days in order to avoid retriggering an automation more than once, we recommend using the Archive function. In this case, to clear the message out of the inbox at this point, you will need to Archive the conversation.
Assigning to Agents/Reps
You can assign conversations to specific employees, which helps streamline your processes and ensure that each customer is receiving the attention they deserve. The assignment will go away once that chat is complete, so if the customer texts back in, after 3 days later, this will not carry over to the new conversation.
To assign a conversation to yourself or another rep, you can either click the three dots when the conversation is opened or by hovering over the left-hand side of the inbox and clicking on the person icon with the check.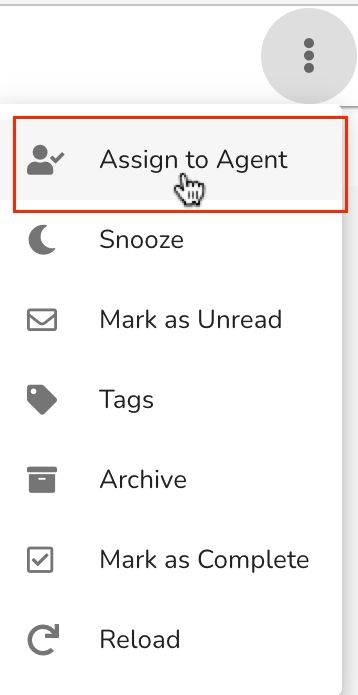 Note: Tags and Assign to Agent are not available on the mobile messenger app, but by properly managing your Messenger Inbox from the browser app, you'll be able to take advantage of more robust features as well as get more in-depth and better data and reporting.
Snooze
This Snooze option allows the conversation to be hidden from the Inbox so that it will not appear as a new/unread message for a specified period of time. This can help keep the inbox organized and clear. After the set amount of time has passed, the conversation will reappear in the Inbox.
There are several ways to use the Snooze feature. You can click the 'moon' icon on the left side of the inbox, you can click the three dots in the top right corner or click the snooze button when the conversation is open.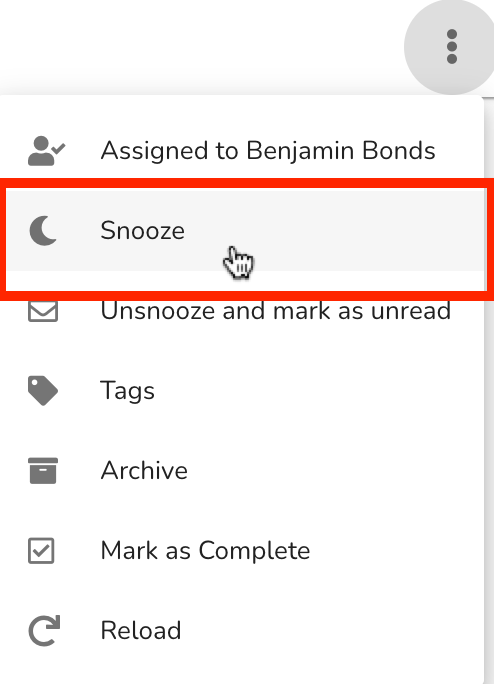 The snooze options have a handful of preset time frames or you can set a custom date/time.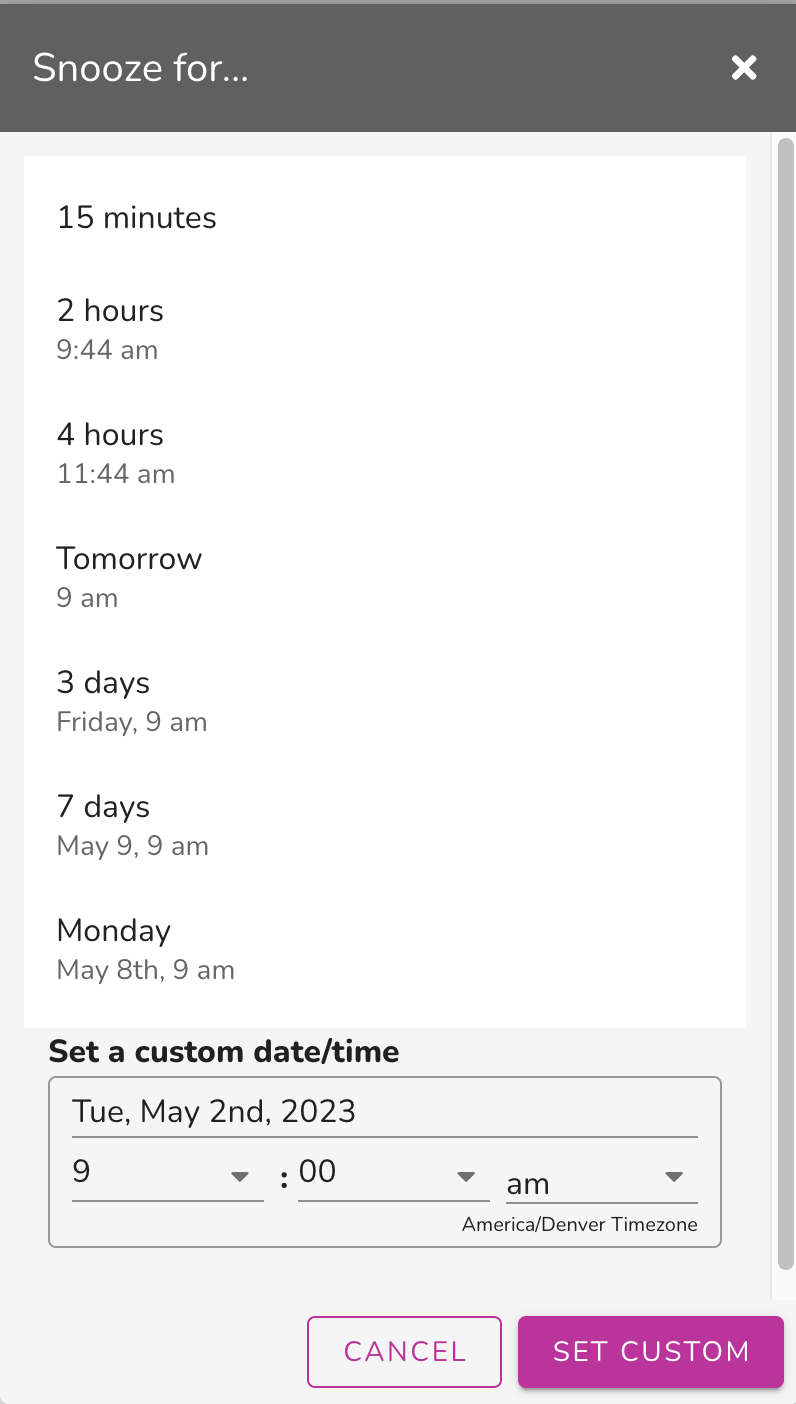 When the conversation re-appears in the main inbox it will have an orange dot indicating this was a previously snoozed message.
Schedule Future Messages
Within the Messenger Inbox, you can schedule a message to go out at a later time. To do so, open an existing conversation and in the menu above the message box click the 'Schedule A Message' button. A window will open with the 'Send To' pre-populated based on the Contact record, simply input the date and time and the message content, then click 'Save & Close. Within the conversation thread, an orange banner will appear to indicate there is a scheduled message. To edit or unschedule the message click the arrow in the orange banner and then the pencil icon. The original window will open, you can either 'Unschedule' or edit the message/time.

By ensuring you and your team are using Patch best practices for Messenger, you are able to unlock powerful data and reporting in your Tools Dashboards.
Patch's Tools Dashboard provides you with real-time data and insights to help you keep a pulse on your business. In-depth reporting and metrics from Messenger allow you to see how your reps are performing, the top categories of message requests from customers, the number of touchpoints per conversation, and much more.
Your Tools Dashboard has several cards dedicated to managing Messenger including the Messenger Card, Reps Card, and Tags Card. Each of these cards can provide insightful data to better help you make decisions and adjustments for your business.
For more in-depth guides on how to use Messenger and Dashboards, check out these help center articles:
Two-Way Texting is extremely powerful for businesses to engage with their customers and positively affect their bottom line. With Patch, you can give your customers what they want by communicating with them in the same way they communicate with everyone else.
If you do not currently have Messenger on your account and are interested please reach out to Customer Success at success@patchretention.com or by using the TextChat widget in the bottom left corner of your account!