Email Alias or Send From Email Address
An email alias lets you control how your email address and name are displayed in subscribers' inboxes. By providing a forwarding address, you can control the way responses are received. The Patch team recommends setting up a branded email domain (above) for increased trust and deliverability.
We recommend setting up a custom email subdomain within Patch however you can set up an email alias using our sending provider 'mailgro'.
Here are resources to help you set up a custom sending domain:
Navigate to your Account Settings -> Email Settings
Now let's dive into setting up your Email Alias or 'Send From' Email Address.
You can create a new 'Send From' Email Address by clicking the (+) sign in the lower right corner.



Complete the information within the window including:
Sending Domain: Select the subdomain from the dropdown list that you just added to the account.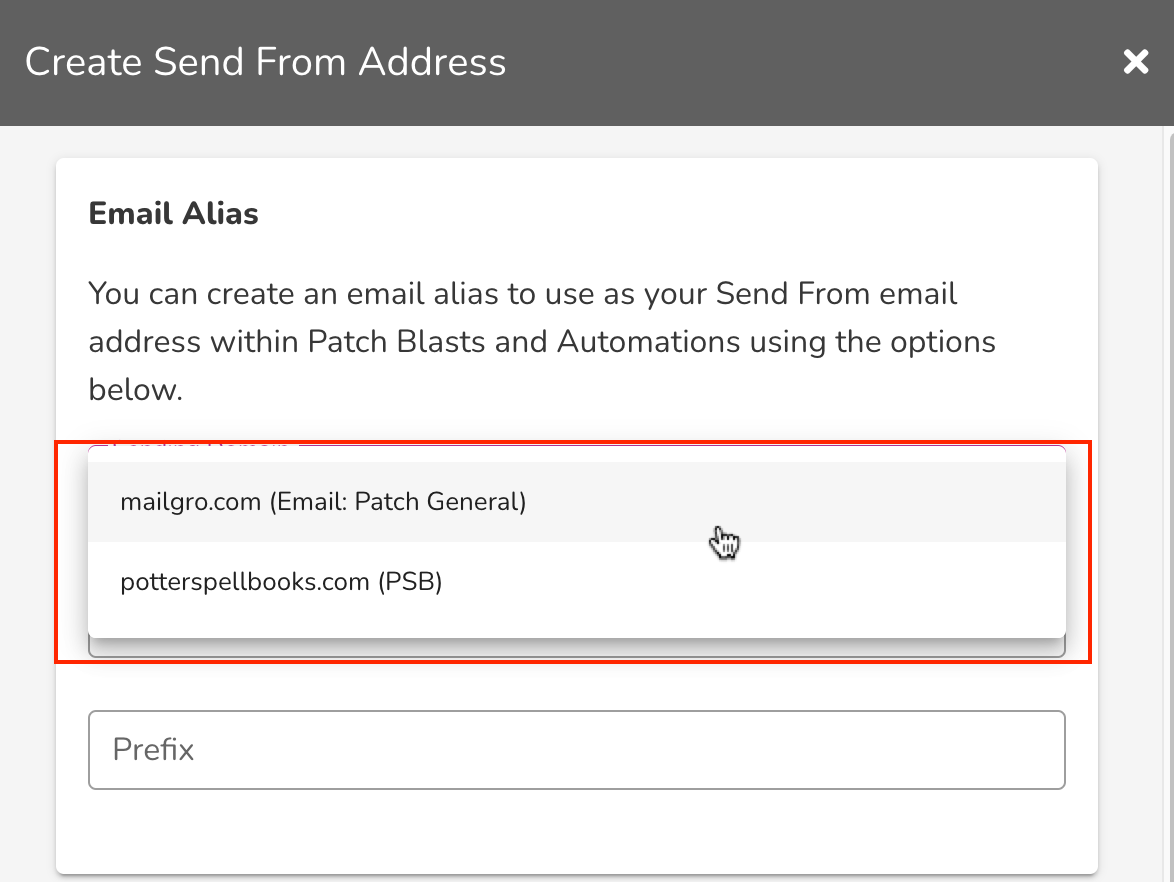 Name: Give this 'Send From' Email Address a Name, this is what appears as the sender Name in your recipients' inbox.


Prefix: Enter the Prefix for the email, this is what comes before the @ symbol.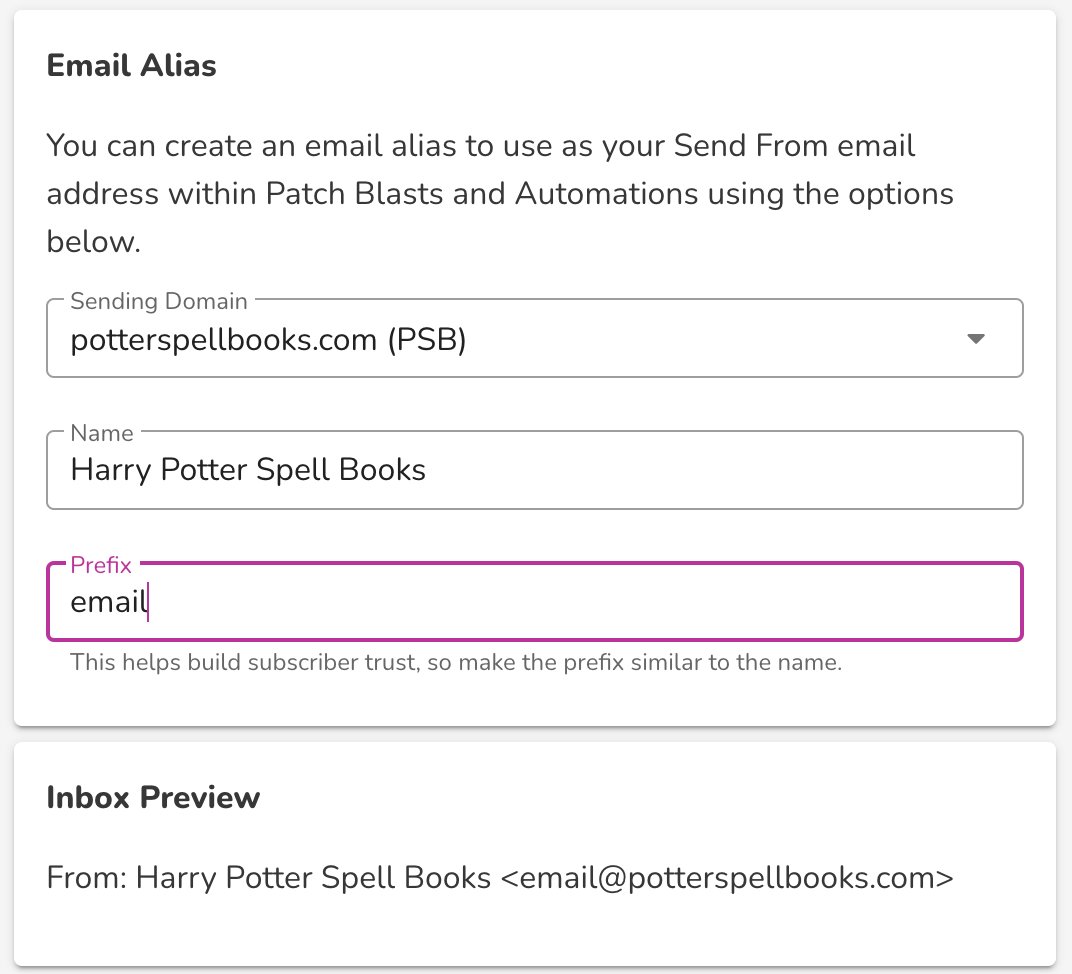 Forwarding Address: Then enter the email address that you want this to forward to. Please ensure this is a real and managed inbox, this also should NOT match the alias.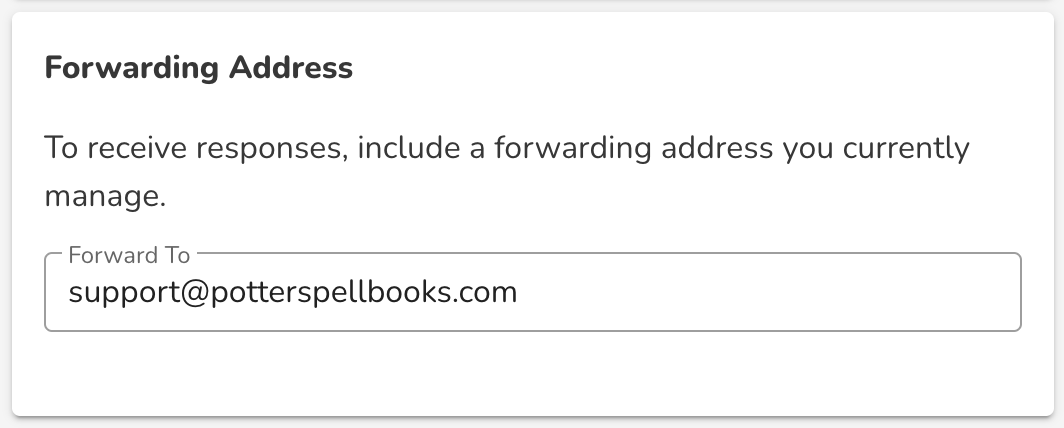 Then click Save & Close.
You will now see this Email Alias in the 'Send From' dropdown on the Send Settings tab of the Email Editor.


How does having separate subdomains help?
Your email domain plays a big role in your sender's reputation. Since they are one of the indicators of where a message is coming from, ISPs keep track of your domain reputation.
Email subdomains are great for isolating variables since ISPs don't explain exactly how they decide whether a sender is trustworthy.
To track and manage reputation, you should create separate email subdomains within your email program.
It's less likely that a rise in spam complaints or a big swing in send volume will affect your root or subdomain if they're separate.
Don't let any email marketing mistakes get in the way of your root domain reputation, which can affect deliverability for PR, sales, or other team members who send personal or outreach emails from the root domain.
How many subdomains do I need?
You'd have multiple subdomains if you want to separate email types like promotional and transactional. You'd have one if you want to separate it from the root domain.
Does it work if I just send from different email addresses at the same domain?
If you change the name before the @ in an email address, that's not the same thing as using a subdomain. For example, marketing@widgets.com and help@widgets.com share the same domain.
Changing the names before the @ helps you organize your senders, but since it isn't actually a separate subdomain, sending activity from each person impacts the rest of the senders as well. Therefore, if you want to compartmentalize sending to protect deliverability, this won't work.
How do I set up a subdomain?
Email service providers (ESPs) have different instructions for setting up new email subdomains, so ask your account manager, support team, or the platform's help docs for more info.

Click here to learn more.

It's important to keep best practices in mind, though.
Get the new subdomain set up with email authentication.

You need to warm up new subdomains just like new IPs because inbox providers see them as unknowns.

Include links to your root domain in your emails.

Rules should be set up for subdomain email addresses so replies come to a monitored inbox.

In case people type it in their browser, redirect subdomains to your root domain.